Since the COVID-19 virus arrived in our country, we've had to rethink our safety, but at the same time continue our professional lives. Working from home became the "new normal", and we've had to introduce ourselves to new technology to ensure our work habits are as similar and productive as they were at the job site. Most larger organizations had remote desktop services and could provide technologies that smaller companies couldn't compete with - until now.
Below are tips on how to remain productive, but also ensure the security and continuity you'd expect while working in the office.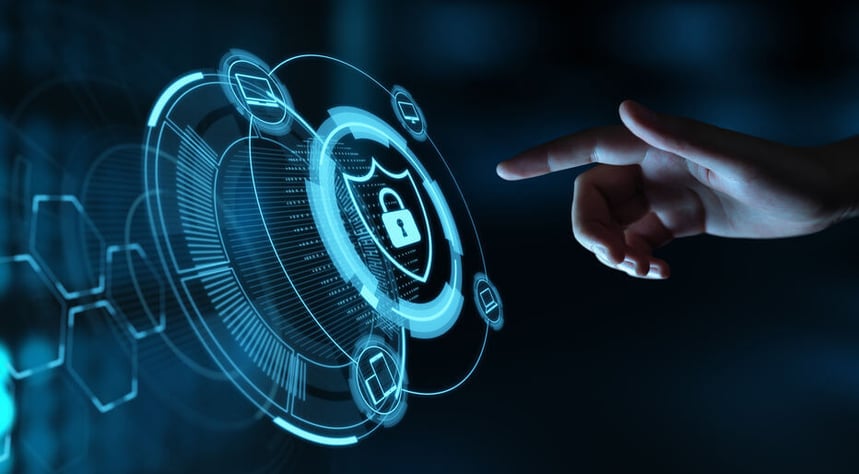 1. Create a productive workspace
Selecting Your Workspace
The kind of business that you operate from home is essential to the type, size, and location of your workspace. Working from home can provide additional distractions you might not have in the workplace. Some items to consider:
Choose a separate room for your workspace. That way, you can close the door to ensure limited distractions from family members, pets, and visitors.

Select a room that can minimize distractions, especially noise.

Make sure the workspace is large enough to accommodate your computer, phone, and printer. You will be far less productive if these items aren't within reach.
Workspace Issues to Consider
Do you have space available to accommodate client visits?

Will you be able to separate your workspace from other rooms in your house to provide client privacy?

Is the appearance of your home acceptable for client visits? Is the house in good repair? Worn carpets, peeling paint, and broken porches can provide clients the wrong impression.
Employees Working in the Home
Is it legal for employees or contractors to work from your home?

Do you have assigned space for your employees to work from?

Are you able to provide employees easy access to parking?

Can you provide employees the necessities, such as a restroom, space for a break or eating lunch, or places to put their coats?
2. Implement Strong Passwords for your Devices
The importance of strong passwords
I had a family member that needed support troubleshooting an iPhone. I had to reboot the device. When I did that, I passed the iPhone back and asked the individual to type in their password. The response I received was shocking, "What password"? The person didn't have a password on their cell phone. Everyone should use passwords, Personal Identification Numbers (PINS), or passphrases for anything.
Can you imagine going to the ATM and not needing a PIN? Anyone could access your bank account! The methodology for your devices should be the same. Any device you have is important and only authorized users should have access to them.
How should you choose a good password?
Common mistakes to avoid: Many individuals use passwords that are based on personal information and are simple to recall. While convenient, this also makes it easier for an attacker to find them.
Try using a PIN instead; four to six numbers are typical. If a PIN is not an option, try intentionally misspelling a word that can provide additional protection. Another option is using characters or numbers, instead of just letters. For instance, rather than using Automobile, try Aut0mob!1e.
Use long, complex passwords that utilize a mix of letters, numbers, and special characters. The National Institute of Standards and Technology developed specific guidelines for strong passwords. 8-64 characters, including upper and lowercase letters, numbers, and special characters.
Do not reuse passwords or base them on personal information. After you have decided on a strong, memorable password, it's in our nature to reuse them, but don't. It's recommended that you use different passwords with different systems and accounts. Do not utilize passwords that are based on personal information that is well known, i.e. your first initial and last name. Do not use common words that are found in the dictionary.
Use a password vault. Password vaults are a great way to maintain a list of passwords that are used to access personal information on different websites. Some examples are Dashlane, Cloud Password Vault, or OneLogin. I use a password manager for both my corporate and personal accounts. When I access a site, like Microsoft 365, my password manager gives me the option of storing the passwords I use. It can also be configured to automatically log-in and provide both username and password.
Online password vaults are relatively inexpensive and can provide relief from having to remember long, complicated passwords.
3. Identify Device Vulnerabilities and How to Secure Them
Antivirus
There are multiple ways a virus can harm your computer. They can slow it down, damage or delete files, reformat your hard drive, cause frequent computer crashes, data loss or inability to perform a task on the internet or the computer. That's why it's important to have one antivirus program on your computer. However, do not install more than one. If you have more than one antivirus program, they can impede the machine's performance.
How does antivirus software work?
Antivirus software is a program that protects your devices against most viruses, rootkits, worms, Trojan horses, and other unwanted infections that make your computer "sick". Viruses, worms, and others perform malicious acts involving deleting files, accessing your data, or using your device to attack others. Antivirus software works against viruses. It can detect or recognize the virus, remove it and also prevent it from infecting your system. Antivirus software works like a prophylactic by eliminating the virus and preventing any potential virus from infecting your computer in the future.
Alternative Device Security Solutions
As mentioned above, passwords are a must. Many Windows 10 devices offer Windows Hello as an alternative to a standard password. As you can see in the image below, you have a choice of Windows Hello Face, Windows Hello Fingerprint, Windows Hello PIN and Security Key. The version of Windows 10 and your device will determine which option is recommended.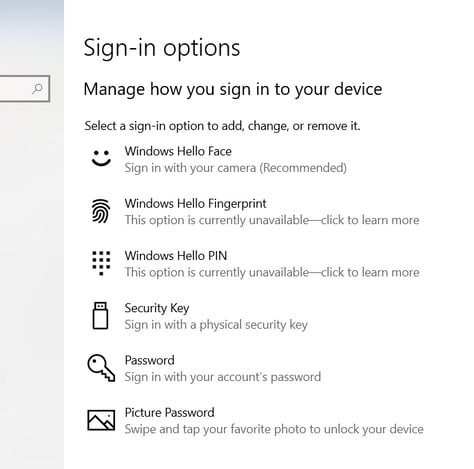 Browser Security
Browser settings can also impact the security of your device. Here are the best ways to maximize your browser security:
Configure your browser's security and privacy settings. Review the browser's privacy and security settings to make sure you understand what is checked and unchecked. One example is to determine if your browser is blocking third-party cookies, which enables advertisers to track your online activities.
Keep your browser updated. Always ensure you have the latest version of your browser. Updates are released to plug any recently discovered security holes.
Note: Be cautious when installing plug-ins. Extensions and plug-ins can sometimes put you at risk. During 2013, it was discovered that some Chrome extensions can change service or ownership without notification to users. As a result, Chrome's regulations for extensions were changed to keep extensions from becoming anything other than "simple and single-purpose in nature".
Make sure you have an antivirus program installed. Your antivirus software can determine what is allowed, disallowed, and able to install from sites you visit.
Screen Locking
Screen locking can prevent access to your device. If for whatever reason you leave your computer unattended, there's a risk that an unauthorized person may access it. To prevent this, you can assign a specific time that your computer screen lock is implemented. The simplest way to establish a time is by going to Control Panel, Power Options, Turn off the Display, and select a time. You're given options for 1, 2, 3, 5, 10 minutes, and others to select. Make sure you are being realistic when selecting the time.
4. Boost Your Network Security
How to secure your router
Your router runs low-level software, known as firmware, that primarily controls everything the router does. It also sets the security standards for your network, and it defines the rules for which devices can and cannot connect to that network. However, there are also other solutions you can implement that will improve your network security.
Change Passwords. You should be using WPA2 security to guard access to your router, which requires every new device to submit a password to connect. It's a good idea to change the Wi-Fi password regularly.
Disable Remote Access, UPnP, and WPS. Many routers come with features that allow remote access from outside of your home, many remote access applications work well without requiring
Another feature to avoid is Universal Plug and Play (UPnP). UPnP is designed to make access easier for devices like game consoles and Smart TVs to access the web without the need to configure multiple screens. UPnP is also used by malware programs to access high levels of your router's security settings.
Finally, you should not enable the Wi-Fi Protected Setup (WPS). WPS allows you to connect a device by pushing a button on your router or using a PIN. This also makes it easier for unauthorized devices to gain access, as a numerical PIN is easier to brute force than alphanumeric passwords. Unless there's a specific reason for using it, you should disable WPS.
Consider software options like Netgear Armor. Many new routers come with specialized software to increase network security. At home, I have a Netgear Nighthawk which offers Netgear Armor software. There's also an option called Bitdefender Total Security, which is included with the Netgear Armor firewall.
Netgear Armor is simple to configure, and it can be monitored with a smartphone. Whenever potential security compromises arise, Netgear Armor will block questionable websites and notify the user via the smartphone application. You are then given the option to block or allow access to the website through the firewall.
Similarly, Bitdefender Total Security is an all-in-one security program. This includes scanning potentially harmful files from accessing your computer, as well as scanning your drives for malware. This program also includes a Virtual Private Network option, should you want more secure browsing.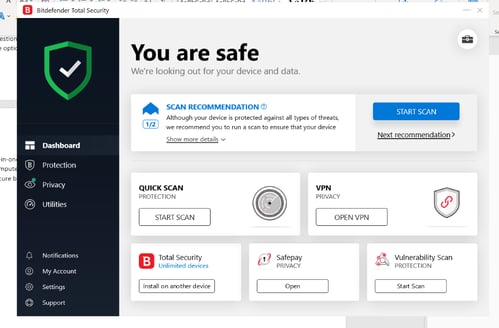 Working from home can benefit your productivity greatly. In fact, research has shown that individuals working from home are 20% more productive than those working in an office. This is great news, but working from home isn't for everybody.
For instance, some employees have issues with "switching off," or the ability to separate home life from their professional responsibilities. Before deciding on whether to work from home, ask yourself, "What are the pros and cons?" If the pros outweigh the cons, you're in good shape. If you see more cons, you may want to think more deeply and ask yourself if this is your best option.
If you do not have a say in the matter, do everything mentioned above to ensure the productivity and security of your workspace. This will allow for a more successful and beneficial contribution to your employer. For more information on working from home, check out our other great blog articles - or contact us if you have any questions.