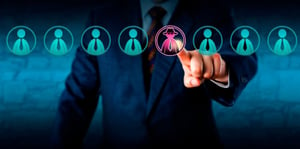 When you hear the term "insider threat," what comes to mind? Is it an irritated individual intentionally causing problems within your systems—perhaps one employee with a vendetta against your company?
Or is it something else entirely?
What is an insider threat?
Insider threats are security risks within your organization. It can be an employee, former employee, vendor, contractor, or another associate of the business.
The threat actor will have insider information regarding your company's systems, data, or security processes. An important distinction, however, is that not all insider threats are intentional. Most (70%) are unintentional.
But, they can still impact the "confidentiality, integrity, or availability" of even the most mission-critical systems or data.
Types of insider threats
Having a detailed understanding of the types of insider threats your business can face will help in preventing future attacks.
Careless or negligent
users
Remember above when I mentioned that some insider threats are unintentional? That's often the case when it comes to a negligent employee or other user.
These threats arise when employees or business associates don't adhere to cyber security best practices, such as clicking on a suspicious link and not reporting it or even something as simple as leaving their computer unlocked when they step away to refill their cup of coffee.
Either of these actions, while not explicitly malicious, is enough for someone to gain access to a machine.
Third-party vendors, partners, or contractors
If you've given a partner or vendor access to your internal systems, there is the potential for misuse. Whether intentional or not, this type of insider can compromise your organization's IT security configuration.
Malicious actors
Do you recall the question I asked about what comes to mind when you hear the phrase "insider threat?" Malicious actors are what most people think of. They are individuals who have every intent to steal or expose confidential company information.
Some may also attempt to sabotage your systems to prevent future access to certain data—or to instigate a larger attack in the future.
How to protect your Omaha or Lincoln organization from insider threats
Now that you know the three main types of insider threats, you can be on the lookout for them, and prevent future attempts with a solid IT security strategy.
Below, I've provided four ways your company can work to deter insider threats.
Monitor user behavior
Monitor and manage employee accounts. Do not give everyone administrator-level access to all data; only give them the necessary access to files needed for their specific responsibilities.
User monitoring is one way to protect your business against potential sabotage, theft of intellectual property, or additional misuse.
Undergo continuous network monitoring
Not only does network monitoring ensure that your network is up to date and maintaining optimal performance—it also offers peace of mind that your business data and systems are secure. Keep in mind, your network monitoring solution should cover all aspects of your data, from your on-premise systems to the cloud.
It will also help you track after-hours access of files or unauthorized downloads, simplifying your ability to trace potential insider threats.
Regularly enforce your security policies and protocols
Documenting your security policies, protocols, and procedures is one thing. Enforcing them is another. Within your policy, you will want to address limiting access to data. You'll also want to control the circumstances under which authorized personnel can access that data, as well as who (if anyone) they can share it with.
Require employees to complete ongoing, comprehensive IT security training
Your employees are your last line of defense against numerous IT security threats. You can have best-in-class tools and systems in place to mitigate some risk, but human error is one thing that you can't predict.
A cyber security awareness training program for your employees will teach them about the inherent risks of weak passwords and provide education on phishing scams and methods, along with safe network security practices, and more.
Are you interested in learning more about CoreTech's IT security training services? >>>
Training and insider threat prevention are just one aspect of a safe, optimal IT security strategy
If you would like to learn more about the other components CoreTech recommends for a proper layered security configuration, download "16 Ways to Protect Your Business from a Cyber Attack" today.
Then, when you're ready, contact CoreTech to schedule an IT security assessment for your organization.