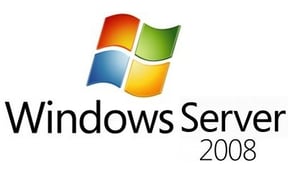 Support for Windows Server 2008 and 2008 R2 is ending on January 14, 2020.
This means that no more security updates will be developed or released after January 14, 2020. Running unsupported software on your server can leave your business vulnerable to any number of cybersecurity attacks and may keep your business from meeting compliance requirements.
Windows Server 2008 was great when it was introduced. However, that was about 10 years ago (which is a long time in tech years). For perspective, in 2008, the Apple iPhone 3G had just come out and was the highest selling phone of the year. It boasted a 320x480 pixel screen, one rear-facing 2MP camera that couldn't record video and either 8 or 16GB of storage. You've probably gone through a few phone upgrades since then. Similar to the world of mobile devices, the performance and efficiency of newer servers are a vast improvement compared to the top-of-the-line offerings of 2008.
So, let's take this opportunity to best meet your current business needs, as well as migrate to greater security, performance and innovative capabilities. You now have the options of utilizing cloud services, sticking with an on-premise host, or using a combination of the two with a hybrid system.
How do you know what's right for you?
On premise: With on-premise servers, you're not reliant on an internet connection to access your data. You also don't have to depend on third parties to keep your data safe. You can decide on and customize the security features you feel are appropriate. Some industries, for example health care, require businesses to store certain types of information in-house to meet compliance requirements. Also, if you're willing to pay more up-front for the equipment, the cost over time to maintain the system will be relatively low.
Cloud: If you're looking for more efficiency, accessibility and scalability then it's time to consider the cloud. With the cloud, you're able to access your data and apps from your smartphone, tablet or PC (anywhere you have an internet connection). The cloud offers a high level of security and could be accessed even if your business experiences a disaster (such as a fire or flood). The cloud is great for collaborating with others, even when they're not located in the same office as you. Additionally, you only pay for the amount of storage you use and you may easily add or remove apps and data as needed.
Hybrid: You also have the option to use the best of both worlds. Some will use the cloud for certain applications, such as email (because it's beneficial to be able to access your email from anywhere you have internet), but stick to an on premise server for larger apps they prefer to use in-house.
If you are still currently running Windows Server 2008 or 2008 R2, it's imperative we start making a plan for server updates now. Sign up to get an appointment scheduled by filling out the form below!