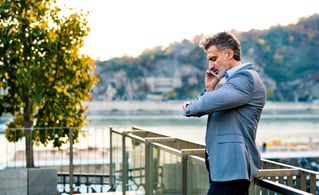 One of the greatest benefits of cloud technology is the promise of mobility. But how does mobility specifically benefit your business and employee productivity? Cloud voice solutions provide you with the tools to enable you to effectively conduct business from anywhere, anytime. With Cloud Voice options like Mitel MiCloud Connect, you're able to call, chat, video conference, view call logs, voicemail and more from anywhere you have an internet connection. For more information, and a live MiCloud Connect demo sign up to watch our webinar. Also, read on to discover how cloud voice technology positively impacts your customers, as well as your employees.
Work from home
More and more businesses are allowing employees to work from home. More flexible work arrangements have been shown to enable greater levels of employee productivity, as well as fostering a better work-life balance, resulting in happier employees. But business owners and managers still want to maintain continuity among staff and customer communications. With cloud voice, your staff can work from home, and still be reachable at their business phone number or direct dial extension. They can choose to use their smartphone, laptop, tablet, or even use a desk phone at their home.
Get up and go mid-call
Everyone's had the experience of being stuck on a call that has gone over the time it was scheduled to end, but you still need to make it to your next appointment. Then you have to choose between cutting off the person you're currently speaking with so you can get to your next appointment on time, or finishing up the conversation and arriving late for your next engagement. With cloud voice, you can simply transfer the call from your desk phone to your cell -- with no delay -- and start heading to the next appointment.
Read your voicemail messages
There are times when reading a voicemail from your phone or laptop would be much more appropriate than lifting your phone to your ear and listening to a message. Also, if you've come out of a meeting to a handful of voicemails, instead of listening to each greeting and waiting to get to the point of each message, it can be easier to visually skim the messages and get a response back to the caller sooner. And if you're currently unavailable but see that someone left an urgent message, simply forward the transcribed voicemail to someone who can take care of it right away.
Ensure customers and leads always reach a human voice
If an incoming lead is ready to convert to a customer, you don't want them reaching your voicemail and deciding to hang up and dial the next company on their list. Additionally, if an employee is out sick, on vacation, or has left the company, cloud voice solutions make it easy to temporarily or permanently redirect calls. Cloud voice also ensures that your customers won't be calling your employees on their cellphones while they're out of the office. Since you can be reached on your mobile device via your business number, there's no need for your staff to share their personal phone numbers with clients.
How can I reach you if…?
We've all been asked on our way out the door how we can be reached for some reason or another. With presence settings, it's easy to tell your coworkers if you're in the office, away, on the phone, or in a meeting.
Don't sit at your desk waiting for a call
You know that anytime you're waiting for someone to call you back, they will call the instant you get up from your desk. But no more! Simply have calls ring your cell at the same time as your desk phone. Don't waste time sitting around and waiting for an incoming call. Do what you need to do and when that call comes in, you can answer regardless of your physical location.
For more information on MiCloud Connect and to see how it works, sign up for our free webinar/demo on October 1st at 10:00 AM Central Time. Or, feel free to contact us with any questions! We would love to help your business find the right voice communications tool or phone system to fulfill your specific business needs.