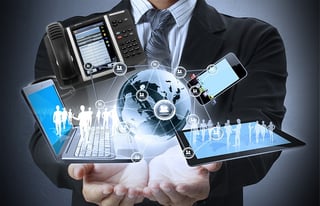 Regardless of the type or size of business you have, the one aspect that all companies cannot afford to neglect is the way in which they communicate with customers.
Unified Communications (UC) is a solution for doing just that!
It is not a product, but rather a combination of different avenues which boost productivity in the workplace. UC includes collaboration tools such as instant messaging, video, conferencing, mobile applications, integrations, and voice.
With these tools working together, businesses can boost their productivity and better manage their customer relationships. Rather than switching between different applications, employees use one system to keep their office communications organized, saving time and money. If you still aren't sure whether to implement a UC system, read on to learn more about the benefits it can bring to your business.
Why does my business need unified communications?
UC is Manageable and Efficient
Unified Communication provides businesses with a single and integrated platform. The system connects everything from your mobile devices to your desktop computers making it accessible from virtually anywhere.
Also, each item is streamlined into a single phone number that works across all devices, so your employees can communicate, no matter where they are. There is also a cloud-based feature that allows all of the equipment to be stored externally, thus freeing up office space.
Disaster Avoidance
Disasters range from irritating to a full stoppage of business activity, which inevitably means time and money lost.
Cloud-based unified communication is the solution to bumps your business may encounter. Communication remains intact with UC since all of your devices are connected through a secure online portal.
This means, that even if you're not in the office, or there is a glitch in the system, your calls can be forwarded to any number to keep communication flowing.
Lower Costs
Depending on business size and needs, communication solutions vary. A cloud-based UC platform has the ability to work with any size business and develop as the company grows; however, when a company grows, so do the expenses.
That's where cloud systems come in: they make it easy to scale, and scale affordably. With modern cloud-based UC solutions, businesses can have a high-quality system that grows with them.
Saved Time
Beyond financial savings, UC cuts down time spent trying to communicate with others.
Since all of your devices are unified across the network, you can answer calls and transfer them to any connected hardware, either in your office or at another location. Providing customers with constant communication and fast response time will improve your customer service.
Improved Collaboration
UC provides many options. There's no longer a need to fly across the country for a meeting, or pull people away from their desks.
Today, you can utilize video conferences, and group messaging to collaborate with other members of the business simultaneously, from anywhere.
Whether you need to host a video, web, or telephone conference, UC platforms can do it all. It doesn't matter where your employees are located; they can connect and share ideas or concepts in real-time.
Interested in learning more about UC solutions? Reach out to talk to our expert UC staff and find out how the proper system could transform the way you do business!
Sources
https://www.ringcentral.com/blog/2016/05/-reasons-why-you-need-a-unified-communications-solution-for-your-business/
https://success.coredial.com/blog/bid/335620/Why-Your-Customers-Need-Unified-Communications-to-Collaborate
http://blogs.plantronics.com/small-medium-business/unified-communications-helps-small-businesses-meet-changing-work-styles-and-customer-needs