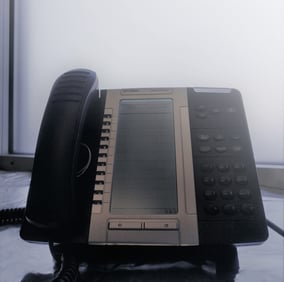 Thankfully, phone system manufacturers have, overall, done a good job at creating a robust product that lasts for many years. But something to consider is that there's a difference between your technology still functioning and your technology working for you-- by saving time and making communication easier. For instance, you may still have a VHS player that functions, but that doesn't mean it's not time for an upgrade. Besides the generally grainy-quality of tapes and the inconvenience of having to rewind them after every use, new movies don't even come out in that format anymore. In the same way, if your phone system is stuck in the past, you're missing out on some great new pieces of software and it may be wasting more time and energy than you think.
Why upgrade my phone system?
Your phone system is an important tool which allows you to connect and build relationships with clients. Communication with your clients reflects your reliability. It's where you show your knowledge of their business and how you can provide exactly what they need from you. When customers don't feel heard, 60% of them will move on to a competitor. Communication is such an important piece of constructing and maintaining any type of relationship, it's worth investing in.
In addition to maintaining open communication, clients are coming to expect instant communication. With 98% of leads taking into consideration the timeliness of a vendor's response to inquiries, can you risk being slower to respond than your competitors?
According to Google, by the time a B2B buyer reaches out to you, they are already 57% of the way to making a decision. They have already done their research and think you may be a good candidate for the job. Now it's up to you to prove it. When they decide you're worth the time and energy of speaking with, they expect you to be right there, ready to show them why they should choose your product or service over someone else's. By the time 30 minutes have passed since their initial point of contact, you are 100 times less likely to ever get a hold of that lead. This is why it's so important that you are able to receive calls, answer calls, and get notifications of missed calls directly to you, regardless of your location.
How can a new phone system help me with that?
Not only do new phone systems take the obvious upgrades of connection speed and sound quality to another level, but phone system manufacturers understand the importance of having everything you need when you communicate. Here are a few examples of features worth upgrading for:
Quicker Response Times
Twinning: Incoming calls ring on multiple devices at once.
When you step out of your office and someone calls your office line, your desk phone and your mobile phone ring simultaneously. Now, if you pick that call up on your mobile phone, but decide to walk back to your desk, you can hand the call off to your office line and vice versa. This allows you to answer business calls directed to your desk, no matter where you are.
Voicemail Accessibility: Allows you to access your voicemails from anywhere.
Voicemails can be emailed to you. All you need is email set up on your mobile phone and you can be notified of a received voicemail anywhere. This feature also makes it easy to send voicemail messages to others (for example: if you're in sales and this question could be better answered by accounting).
Availability of Information
CRM Integration: Have client information from your CRM pop-up on your computer, tablet or other computing device as you receive a call.
This is the best way to have the information you need for an incoming call immediately at hand. If Suzy from XYZ company calls in to check on an order, her file has already been located and populated on your computer screen. With instant information on-hand customers will know you are on top of your game.
Campaign Manager: Measure and automate outbound calls.
This add-on can track statistics on how many calls were made, answered and even produced a sale. The more knowledge you obtain on the successful sales calls, the more you will be able to replicate it.
Non-Traditional Workplaces
Softphones: Electronic phone that can be installed and used from your computer, tablet, or smartphone.
This allows you to make and answer calls coming to or from your work number, anywhere you have wifi or data coverage, as if your electronic device was your office phone. This makes it easy for your clients to only have to keep track of one phone number to get a hold of you, but also allows you some privacy by keeping your cell number confidential. It also offers all the features you use on your desk phone (like being able to see who in the office is available to take a call and who is not).
Hot Desking: Log in and use your business phone number on any phone that is set up for hot desking.
This is great for workplaces that have different shifts of workers using the same desk. Barb, who works the day-shift can be logged in under (555) 555-5555 until she get's off work and signs out. Now, when Bob comes in for the night-shift, he can sit down at that same desk, log into the phone, and be reached at (555) 555-5599.
Business phone systems are very customizable and capable of streamlining connections like never before. However, with so many features available, there is no such thing as a one-size-fits-all system.
To find the perfect system for you, contact CoreTech's expert team. We will start by asking about your specific business and how your company currently uses your phone system. Then, we help you weigh all the options and find out exactly what features you need and which ones you don't. We look forward to hearing from you!
Sources
https://www.thinkwithgoogle.com/consumer-insights/the-changing-face-b2b-marketing/
https://e61c88871f1fbaa6388d-c1e3bb10b0333d7ff7aa972d61f8c669.ssl.cf1.rackcdn.com/DGR_DG043_SURV_B2BBuyers_Jun_2016_Final.pdf
https://www.forbes.com/sites/marketshare/2012/05/22/when-it-comes-to-inbound-marketing-time-is-definitely-of-the-essence/2/#6b53dc695f68