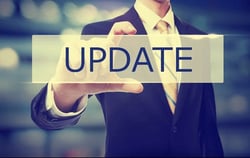 It can become quite irritating when the little box pops up on your phone, laptop or other device saying you need, yet another software update. You click, "remind me later," and continue on with your day. As irritating as they are, software updates are extremely important and you should get in the habit of following through with those pesky notifications. Why? Read on...
Security
Constant updates are the new norm. Companies such as Android, Apple, and Google all have employees whose job is to try and hack their own product. What is the goal? To discover and fix flaws before malicious hackers take advantage of them. For this reason, not all updates roll out new features, many times the software needs to be updated for security purposes. The updates with "bug fixes and improvements" are worth the download as they could prevent your device from being hacked and your data from being shared with everyone.
Functionality
Who doesn't like their laptop or phone to operate at a higher rate of speed? Installing regular software updates on your device will frequently provide speed enhancements. In addition, developers are often working to implement new, engaging features that make your life easier. If you don't update, you aren't able to take advantage of increased speed and features.
Fortunately with apps, you can simply turn on automatic downloads so you never have to think about updating an app again! However, when it comes to operating system software don't click, "remind me later," click, "update."
Sources:
http://www.refinery29.com/2016/03/106585/software-updates-importance