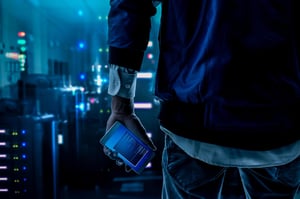 October is Cyber Security Awareness Month! At CoreTech, we take cyber security seriously, so we talk about it A LOT. Our goal is for everyone we encounter to not only be aware of the magnitude of the cyber security threat landscape, but also that they have the tools and plans in place to prevent cyber attacks and security breaches. We have a lot of resources available on our website and realize the magnitude of cyber security can quickly become overwhelming. So, we wanted to take you on a guided tour through the information available to you.
First off, knowing where to start with your cyber security strategy is the most difficult part of the process for many businesses. So, let's start with something you already know and have a great grasp on — your business. What does your business currently do? And what are your goals for its future? With this information you can start building a cyber security strategy that aligns with your business strategy. As you go through your business processes take a look at these 16 Ways to Protect Your Business from a Cyber Security Attack. This sheet provides a brief overview of 16 pieces of the cyber security puzzle that can be layered together to secure your business end-to-end.
Looking for more in-depth information on select security tools and applications? Here are a few we've covered:

Then, don't forget to enable your most valuable asset before they become your biggest liability — your staff. One human can eviscerate thousands of dollars' worth of cyber security equipment and applications with one simple click. The only way to prevent this is through education. A quality cyber security education program will teach staff how to do things like recognize phishing emails, identify social engineering, and prevent cyber attacks on their mobile devices.
However, we realize that even though we believe cyber security training is one of the most important things an employee can spend their time learning, not everyone shares our sentiments. For assistance getting others on board with your cyber security initiative, check out our article 5 Steps for Getting Your Employees Invested in Your Business's Cyber Security Initiative.
Even after your business has implemented all these cyber security layers, there's always a chance someone can click a malicious link without thinking, or for a new threat to be able to slip its way through any modern security offerings. But, don't give up. Have a Business Continuity and Disaster Recovery Plan in place. A BCDR plan will give your business the greatest chance of bouncing back with the shortest amount of downtime and recovering with the most data capable of being recovered. When it comes to cyber security, businesses who prepare for the worst, give themselves the greatest chance of success for their future — no matter what life throws at them.
Cyber security is a vast topic and there's a lot that goes into it, but don't worry — we have been through the whole process of implementing cyber security strategies countless times and we're here to help your business from start to finish. Contact us today to take that first step. Remember, all you need to know is your business and we can assist you with everything else. We look forward to getting to know you and your business.