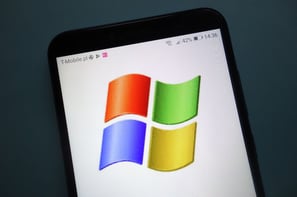 Launched on July 22, 2009, Windows 7 quickly became a popular operating system for both personal and business use. It is so popular, in fact, that 39% of all PCs are still running Windows 7 today — a decade later. However, Microsoft has announced that the company stopped supporting Windows 7 on January 14 and Server 2008 on January 20, 2020.
Is your business still using Windows 7? Then it's important for you to understand what end of life means for your IT security, and how you can upgrade your business operating systems with the help of an IT managed service provider (MSP).
What Does End of Life Mean for Windows 7 and Windows Server 2008?
Microsoft ended mainstream support for Windows 7 on January 13, 2015, which means that they stopped adding new features and recognizing warranty claims, but they did continue to patch and update critical security issues and fix important bugs during the extended support phase. However, extended support ended for Windows 7 on January 14, 2020, which means they will now no longer provide those patches and updates.
Similarly, Server 2008/R2 products have reached the end of their mainstream support phase as of January 20, 2020, signifying that the company will no longer release new features for these products.
Customers do have the ability to purchase additional extended support for both Windows 7 and Server 2008, but it comes at an additional cost for three additional years of security updates. These products will continue to function without the most up-to-date patches, but using outdated software can have serious consequences for IT security.
How End of Life Impacts IT Security and Performance
The end of life for both Windows 7 and Server 2008 puts businesses that continue to use these products at risk for data breaches and other security incidents. Hackers know that the product has reached its end of life date, and they will take advantage of this lack of security support as an opportunity to hack the systems that are still using the software.
End of life can also impact your system's performance. Though your systems will continue to run, they may not run effectively for your business needs. When Microsoft stops supporting an operating system, software providers will also stop supporting their application running on Windows 7. Software providers will begin to focus on newer operating systems, which means they will no longer check their compatibility with Windows 7. This means that you may not be able to continue running your applications on equipment with Windows 7.
If you run into an issue and need support for your Windows 7 machine after the operating system's end of life, it will become increasingly more difficult to find an IT company that is able to help. IT and computer repair companies stay up to date with the latest technology in order to provide their customers with adequate service. Now that Windows 7 is no longer supported, IT companies will be limited in what they can escalate to Microsoft, should additional help be required.
What now?
Planning is the most important way that you can prepare for the transition away from Windows 7 and Server 2008/R2. Develop your upgrade plan now. Consider your organization, technology, security and customer needs before moving forward with an upgrade.
One way you can transition is to upgrade your system to Windows 10. If you have hardware and devices that are compatible with the newer operating system, then you can download an image file from Microsoft that will update your computer from Windows 7 to Windows 10, but that file may soon no longer be available or difficult to find.
If your equipment is not compatible with Windows 10, you will need to create a plan for upgrading your devices in order to transition to the newer operating system. Your options are to purchase new equipment that is compatible with Windows 10 or lease equipment through an IT managed service provider..
Whether you upgrade your existing equipment or purchase new machines, it's important that you back up all of your files from Windows 7 before upgrading to Windows 10. If something happens to the old machine, you may be unable to retrieve your files in some cases. Backing up your system and making sure that your backup works is an important step in transitioning to Windows 10.
How an MSP Can Help with the Transition
Upgrading your systems to transition to Windows 10 will not necessarily require you to purchase all new computers. Your MSP will help you better understand what's best for your organization and what will meet your business needs. At CoreTech, we look at all of your company's equipment to see which machines are candidates for updates and which may need to be replaced.
For equipment that needs to be replaced, we can help you decide what equipment makes sense based on the individual job role. Based on this assessment, we will provide a quote for new machines and help manage the project of upgrading and replacing your equipment.
It's important to note that working with a managed service provider will help you avoid these types of last-minute transitions altogether. Your managed service provider will notify you well in advance about any upcoming end-of-life notifications for your operating systems and applications. This allows you to update your systems ahead of time, which is the best way to avoid disruption or security issues.
Need help upgrading your business to Windows 10? We can help. Contact us to learn more.