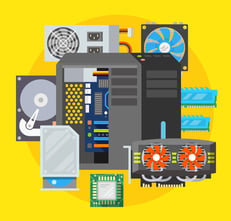 In this world of ever-changing technology, staying up-to-date and standardizing your computers can be overwhelming. It doesn't make things easier when it seems like vendors want to sell you the high-end computers, rather than set you up with something more practical (sounds like a car salesman, right?). Looking for a new computer is going to be a lot like looking for a new car.
When you're shopping for a new car, you tend to know the size, trim, brand, etc.… With computers, it will be the same, except with computer parts instead. Check out this guide to learn the main components that make your computer run. You can use this to make a decision about what to look for in a personal or business computer.
1. Memory
Have you ever heard the saying, "There's no such thing as too much memory"? While this is technically true, too much memory can be a waste of money. Memory helps handle how many tasks you can run at the same time.
Personal: If you're a gamer like me, having 16 to 32 gigabytes of memory is a good idea. However, if you just use your computer to watch YouTube or check social media, you can get away with 4 to 8 gigabytes of memory.
Business: On a business level, the standard is 8 to 16 gigabytes of memory. This will vary based on what tools you use on a regular basis. If you use several heavy-duty tools (i.e. QuickBooks, Business Works, Sage, Photoshop, etc...) You will want to be closer to 16 gigabytes, or more.
2. Processor
The processor is going to be one of the most important things to look for in a computer. As the name implies, it processes all tasks that you're running on your computer (i.e. using Outlook, Chrome, or even opening/closing applications). Like memory, you need to think about what you do on a regular basis for your computer. 90% of the time most people will buy a computer that is overpowered and overpriced. A good chunk of the cost comes from the processor.


Personal: Like with your memory, you need to think about what you do on a regular basis. Unless you're a hardcore gamer, graphic designer, programmer or the like; you can easily get away with an Intel i3 processor. If you're on a budget, I would also recommend looking at AMD processors. While the performance may not be on the same level, AMD is comparable and cheaper.
Business: General rule, for a business computer, is to have an Intel i5 processor. However, and again this is dependent on what you do at your job, you may want to consider Intel's i7. This is their stronger processor and meant for the high-end applications and tools that you may use. There are a couple other, more powerful processors, but I only recommend this if you're going to be doing high-end graphics, programming, video editing, etc..

3. Hard Drive Space (Storage)
Hard Drive space, is another very important piece of your computer. This allows you to store data (documents, tools, applications, etc.). The more you have, the more you can store. However, this also means the more you have, the more it will cost. Cloud storage can be very useful, but most cloud services keep an offline copy, which will take up space on your hard drive anyway.

There are a few different types of hard drives to choose from: Hard Disk Drive (HDD), Solid State Drive (SSD), and an M.2 SSD. HDD's came first and they have a spinning disc that is used to store, read, and write data on. They tend to run cheaper than SSDs and take a while to start up because of the moving parts. The two SSD's are newer, and do not have any moving parts, which improves the overall lifespan, performance and integrity of your drive. M.2 SSDs are the newest form of hard drive storage. They're smaller, don't not require any cables, and can read/write faster than the other two drives. They tend to be more expensive, depending on the brand and size.
Business/Personal: For both business and personal, 250 to 500 gigabyte drives are the standard. Having additional drives, for extra storage or backups, is a good idea. However, I recommend investing in an external hard drive for storing your personal backups. You can find decent 500 gigabyte (or larger) external drives between $50 – $100+. For business, your server may provide the extra storage you will need. As well, backups may be handled of your data stored on the server may be handled differently.


Final Tips
Make sure your monitor can connect to your new computer.

While most computers will have the display ports you need, some will only have HDMI or Display Adaptor ports. If you have an older monitor, it may not have these available. But don't worry, there are adaptors that can convert your current cable to either an HDMI or Display Port.

A graphics card is nice to have, but unless you're into gaming, graphic design, video editing, etc... you don't really need one.
Size of the tower (if you're getting a desktop).

No kidding, the size of the tower can be important. While most computers have a mid-sized, or small form factor tower. There are some full-sized towers, reminiscent of the 90's, when towers could double as a small end-table. Be aware of where the computer is going to go and ensure you have enough open space for it to circulate air and remain cool.

Accessorize!

Accessories can be fun to have, but let's not go overboard here. I would recommend speakers, a keyboard/mouse (something to fits your hands and typing style), and a surge protector/UPS battery backup (this is a must have, if you'd like to prevent your computer from being fried in the event of a power surge).
You may feel as though you just read a manual on how to build a rocket, but I promise that this guide will help you make a more informed decision when purchasing a computer. Just remember three main things: think like you're buying a car, research, and don't be afraid to ask for an opinion from one of your tech buddies (hint... hint... your favorite IT Support providers).