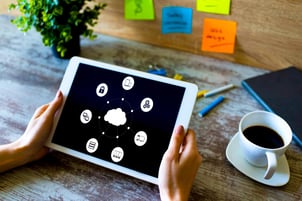 Over the last several years, cloud computing has revolutionized the way we handle and store data. Businesses are increasingly leveraging that power to help streamline workflows, protect sensitive data, and handle big workloads — without the burden of costly equipment or infrastructure maintenance. With the recent prediction that 83 percent of enterprise workloads will be in the cloud by 2020, we've reached the era of mainstream cloud computing. Here's how things are currently changing in the world of cloud computing and what you can expect for your small to midsize business.
What's Happening in the World of Cloud Computing?
Developing a comprehensive and well-managed computing infrastructure is one of the biggest challenges for businesses today. Public and private cloud structures have their advantages, with public clouds reducing the need for extraneous expenses and maintenance, and private clouds offering increased security and customization. But because each model features different benefits, businesses are often left needing a combination of both models.
That is where the hybrid and multi-cloud models step in. In fact, 62 percent of public cloud users rely on two or more independent cloud platforms, and 74 percent of enterprises already refer to their cloud usage as "hybrid" or "multi-cloud." These statistics have led experts to anticipate the increased use of hybrid and multi-cloud models among small to midsize businesses, in place of single cloud services.
What Are Hybrid and Multi-Cloud Computing, and Why Are They Gaining In Popularity?
84 percent of respondents to a State of the Cloud Report said that they prefer a multi-cloud strategy, including multiple private clouds, multiple public clouds, or a hybrid model strategy. — what exactly does this mean?
The terms "hybrid" and "multi-cloud" are often used interchangeably, however it's important to clarify their differences. Hybrid refers to the use of a combination of private cloud services along with third-party public cloud services, with some intermingling between the two platforms. Multi-cloud computing, on the other hand, operates different clouds for different tasks, so its components remain isolated from each other and don't work together the way they do in a hybrid model.
Regardless of which strategy the 84 percent of respondents chose, the statistics are visibly pointing to the need for organizations to have control and flexibility over their networks — which both hybrid and multi-cloud computing offer.
What Are the Benefits of Hybrid Cloud And Multi-Cloud Computing?
Hybrid Benefits
Scalability. Have the flexibility to increase or decrease your workloads, as needed, without worrying about security risks.
Flexibility. Distribute your workloads across multiple public and private clouds with regard to the security, performance, and cost requirements of each.
Freedom of mobility. Go at your own pace by migrating some of your workloads on a public cloud or small-scale private cloud — while keeping others on site if you're worried about high-level security. You can continue to expand your cloud reserves as needed, whether it be public, private, or a mix of the two.
Streamlined single set of controls. With some providers, you have access to an integrated hybrid platform so that you can sync traditional on-site systems with cloud applications.
Increased security. Run your sensitive IT workloads on a dedicated server while running regular workloads such as front-end applications on the public cloud for an agile and secure data strategy.

Multi-Cloud Benefits
Risk mitigation. Maintaining multiple providers creates a higher level of network protection, because even if a hacker is able to access one of your cloud profiles, they will not have access to your entire network. Also, if you are affected by a cyber incident, your IT team can immediately move services to another secure cloud environment.
Greater flexibility. Your different workloads, applications, and data require different levels of security and compliance, and a multi-cloud model allows you to match your assets to the platforms that best suit them.
Less vendor dependency. Using multiple cloud providers means you can transfer between vendors to accommodate costs or changing workloads.
Greater technology access. With more providers, you can take advantage of each vendor's unique offerings in AI, IoT, machine learning, and more.

Cloud computing — hybrid and multi-cloud models in particular — have the potential to completely change the infrastructure of your business, giving you more security, flexibility, and control. So, which is the right cloud computing option for you?
Reach out to our expert team, here at CoreTech. We'll discuss your IT needs and how they align with your business goals to determine which cloud computing option will best streamline your organization for future success. Contact us today and set your business up for future success.