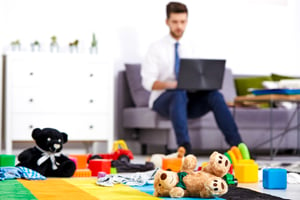 Having a job that promotes a healthy work-life balance positively correlates with employee well-being, satisfaction and organizational commitment. Personally, I have a lot to juggle between my work-life and home-life. Having a flexible job and employer that's willing to work with my out-of-the-box, crazy lifestyle is the only way I am able to fully commit to both. How do I balance both my work and family and what can your business do to ensure a healthy work-life balance for your employees? Read on to find out.
My job is especially important to me, because I am the sole provider for my family – so, I always strive to keep my priorities in line, regardless of what I'm doing. I work hard when I'm at work, so I can have my family time at home. Thankfully, I am better able to balance them with the help of my wife, Michelle, who keeps meticulous records of every event that our children have going on (school programs, games, or doctors' appointments – to name a few).
Don't get me wrong, it's a difficult task to devote yourself to both your career and your family – especially when you have a special needs child. When your son could require medical attention at any given moment, you must always be ready to switch gears, in an instant. One day he's doing amazing and the next it can be a totally different situation. Our family went from a two-person income to a one-person income overnight and it has been somewhat difficult at times, but it's manageable – because my employer is willing to work with me.
How your business can foster a good work/life balance for its staff:
Remote work options: With the use of the cloud, it's easier than ever for staff to work remotely, without impacting productivity. If your business has the infrastructure in place, your employees should be able to work just as well on their computer outside the office, as they could from their computer in the office. In the past, one concern with remote work has been maintaining security, however if you have the proper tools and applications in place, remote work can be just as safe as working in the office.
Open communication: Communication is made simple with the utilization of Unified Communications. You can enable your staff's desk-top phone system and cell phone to ring simultaneously with the touch of a button – allowing them to answer business calls right away, regardless of their physical location. Need to fill an out-of-office coworker in on a quick note? Send them an instant message. For important conversations that would be best portrayed face-to-face, video conferencing is a good alternative.
Flexible hours: If an employee needs to take time out of their work day – allowing them to make the time up outside their normal hours keeps them from having to worry about losing pay, and keeps your business from missing out on reaching their productivity goals.


One thing I would like for you to take away from this conversation is that work will always be here, but your family may not. I have learned this after the birth of my beautiful son Derrick. He has changed my perspective on life and how to approach it as we live day by day. Allowing your staff time to devote to their family when they need it – truly allows for happier, more present employees at work. If you would like assistance implementing technology which allows for a healthier work-life balance for your staff, contact us today!