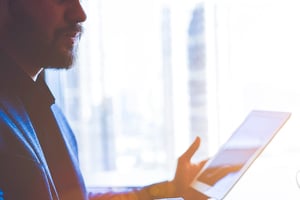 One of your sales reps just made it back to the office after a morning jam-packed with meetings. While speaking with his manager about all the conversations he had with current and potential clients, he realizes that he has no idea where his tablet went…. He knows he had it at stops one and two, but after that, he can't recall if he used his tablet or his smartphone.
Now, beyond the monetary expense of the tablet itself and the time spent configuring the proper applications, the most concerning part of this incident is that you have no idea who could get their hand on client information, financial data, internal company communications, and more, all housed on that device. How do you prevent a security breach in this situation?
Mobile Device Management (MDM) allows you to not only track devices via GPS, but you can also remotely lock the device, encrypt the data, or wipe all data from the device entirely. On top of those options MDM provides additional security benefits, such as:
Network authentication. Allow specific mobile devices to access your business network, so employees are able to access data while on-the-go.
Jailbreak and root detection. Ensure your staff isn't downloading software or changing code outside of manufacturer standards.
Password settings. Gain remote access to password settings to ensure mobile devices are being properly secured.
Disable applications. Block the App Store, YouTube, or any other applications that could pose a security risk and that users don't need access to.
Virus protection. Although, in the case of mobile devices, security breaches more commonly occur when a person gains physical access to them, it's still smart to have some form of virus protection installed.

Feature restrictions.

Don't want employees using certain features on their work phone?For instance, if you don't want the users personal photos stored on their work phone, you can disable the camera.

Whether mobile devices are provided by the company or you have a bring your own device (BYOD) policy, Mobile Device Management can be utilized to protect your business. Even if the device is being used for both personal and business purposes, MDM can be configured so that it only has remote access to the business applications on a phone or tablet.
This way, if employees use their personal phones to access their business email and a unified communications business phone application, your business can revoke their access to these applications if they no longer work for your business. On the other hand, staff can also be assured that their employer is not accessing their personal communications or other private information on their device.
Beyond security, other important features for managing mobile devices include::
Remote installation or uninstallation of applications.
Push updates.
Whitelist or blacklist certain applications and websites.
Virus protection.


You can also monitor statistics, such as:
Data usage.
Log of phone calls.
Encryption status.
Installed apps.
Battery level.
Memory.
Signal strength.
Roaming.
Downloaded/uploaded data.


With Mobile Device Management, your business can decide how much or how little control is necessary to assert over mobile devices. Some businesses are held to high standards, due to industry compliance requirements. Whereas other businesses just want to ensure there isn't one staff member hogging all the available data. Certain features can be turned on or off depending on an individual's job function as well.
If you're interested in discussing your options for Mobile Device Management, contact us. We can help you decide what features are right for your business, then implement and manage the software.