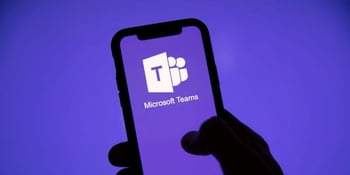 If your company uses Microsoft Teams, you're likely part of numerous Teams and channels within the application.
Using Teams and shuffling through your Microsoft Teams Activity Feed no doubt feels overwhelming, and it can be difficult and even time-consuming to shuffle through all the messages, @-mentions, reactions and other announcements you receive every day.
If you can't find your notifications, it becomes that much harder to prioritize and execute on tasks.
Fortunately, there are ways to simplify keeping up with your Microsoft Teams Activity Feed. One of the best ways is filtering your notifications.
How
c
an I
f
ilter
m
y Microsoft Teams Activity Feed?
Filtering your Teams Activity Feed is simple! Just access your Activity Feed (by clicking on the bell in the top-left corner of the Microsoft Teams interface) and look for the "Filter" dropdown menu. It looks like this:
When you click the "Filter" icon, the top of your menu becomes searchable, and you can enter your own search keywords to find what you need.
What Activity Feed filters are available?
Or, you can filter by type. Click on the three dots next to the search bar.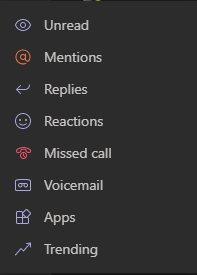 Doing so brings up 8 different options for filters.
Unread

Mentions

Replies

Reactions

Missed Call

Voicemail

Apps

Trending



To make it easier to look through notifications at a glance, Microsoft has given each category an icon, which you can see in the corresponding image above.
Some additional tips for managing your Microsoft Teams notifications
If you still feel inundated with Microsoft Teams notifications, the tips below for toggling your notification settings may help.
How to Access Notification Settings
Click the gear icon next to the "Filter" icon at the top of your Activity Feed. This will automatically open your Notifications Settings.
You can also navigate to them by clicking on your profile picture, selecting settings, and navigating to the Notifications menu.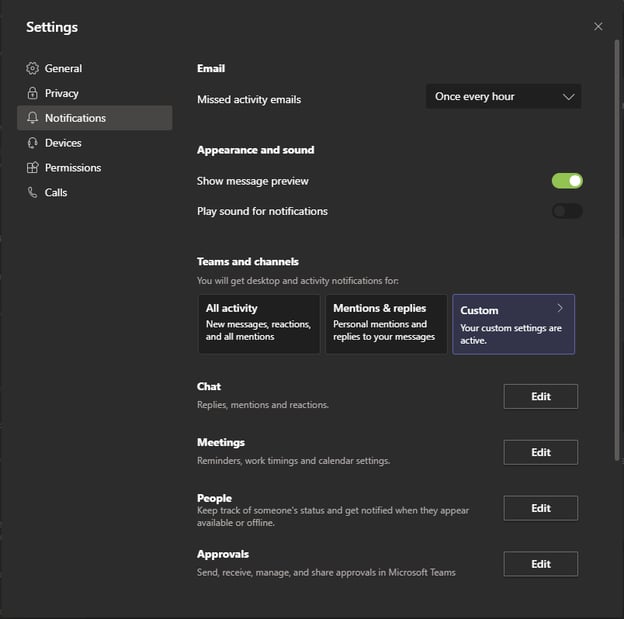 Controlling the
Notifications
You Receive
You don't want to risk missing important messages from your team, but you can customize how or when you would like to see certain notifications on your screen.
Missed Activity Emails
If you're going to be away from your desk or not have access to your Teams account for a longer period of time, setting up Missed Activity Emails are a good way to catch up. You can choose how often you would like to receive them, including messages as soon as a notification comes through on Teams. Or, you can adjust it to an email once a day. It all depends on your needs and preferences.
Appearance and Sound
Don't want message previews to show up on your screen? You can turn them off here. You can also toggle the notification sound from this menu option.
Teams and Channels
From this option, you can select what you would like to get desktop and activity notifications for. Whether you would like a notification for everything that occurs in your Teams and channels, just mentions & replies, or even a Custom setting for each Team, you can manage them with ease.
Additional Notification Settings
The remainder of your Microsoft Teams Notification Settings allows you to custom tailor your notifications for chat messages, meetings, individual people and approvals.
How
do you keep up with your Microsoft Teams notifications?
We'd love to hear from you! Comment on our post below with your best tips for using Microsoft Teams.
And if you have any questions about the application, please don't hesitate to contact CoreTech today.
---
Check out these other great Microsoft Teams posts written by CoreTech's experts!