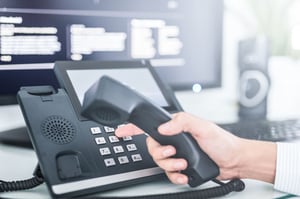 As the coronavirus pandemic continues to disrupt traditional ways of doing business, a lot of companies have taken advantage of working from home. But working remotely brings up new challenges and problems to solve, and organizations are particularly concerned with how they can
communicate with customers, vendors and coworkers
.
Because even when working from home, phone calls are still a crucial component of conducting business.
Luckily,
working from home gets much easier
, especially with the Microsoft Teams and Nextiva Cloud VoIP Phone system integration. The setup is also known as Call2Teams, and it presents a new range of possibilities for your business communication.
1. Communicate more effectively
If you're already using
Microsoft Teams as a collaboration tool
with your coworkers, using it as part of your phone system is a cinch. Plus, it will make your performance even more effective because you're streamlining yet another aspect of your workflow—your organization's phone calls—into the same application.
With the Call2Teams setup, you can even call individuals who don't have the Microsoft Teams application. And if you miss a call? There's no problem, because Teams gives you the ability to transcribe voicemails. Your call logs will also sync between the Teams and Nextiva apps, even if your calls are answered in the Microsoft application.
2. Work from anywhere
With a cloud VOIP phone system, you only need an internet connection and your phone to get your phone service working, which means you can take and receive calls from anywhere.
Cloud phones
also give you the option to use your office phone number with a mobile device or cell phone. All it takes is an application, and you'll have your office phone wherever you are!
3. Keep your system secure
When you use Call2Teams with your cloud VOIP phone system, your calls are encrypted from end to end, so you don't have to worry about your information and conversations staying secure.
When you fuse Microsoft Teams and your Nextiva VOIP phone system together, you reap some impressive benefits, like streamlined operations and an extended ability to call out, even when those on the receiving end don't have Teams.
Most importantly, however, you are enabling your team to truly work from anywhere.
Are you ready to integrate Microsoft Teams with your Nextiva phone system?
Contact CoreTech today, and our unified communications team will be there every
step of the way to help your organization communicate better.