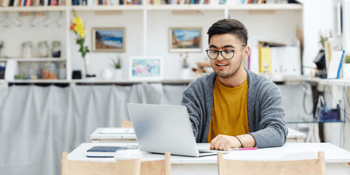 Although project management may not be the first thing that comes to mind when you think of Microsoft Teams, the platform offers a lot of capabilities that can improve the project management process. These range from video conferencing to Office 365 integration to scheduling and hosting meetings.
However, while using Microsoft Teams for project management can offer many benefits, there are some limitations as well. As such, it's important to know Microsoft Teams' best practices for project management to ensure that you can maximize its potential for your organization.
The Pros of Microsoft Teams for Project Management
Utilizing Microsoft Teams' features beyond communications turns the platform into a valuable tool for project management. For example:

You can add on applications that integrate with Microsoft Teams, such as Microsoft Teams' basic planner application, the to-do app, the tasks feature and more.
You also can integrate third-party applications that allow you to do other types of planning, resource management and scheduling.
You will find it easy to plan assignments and track tasks throughout the project's timeline. For example, using the calendar feature, everyone can see deadlines to ensure that their individual tasks are completed in time for the next phase of the project to help minimize delays.



Various Microsoft apps and modules are included in your Office 365 subscription, so you won't have to spend more money for additional software. You'll also find that it's priced competitively when compared to other project management tools.


Whether using it on a desktop or on a mobile device, Microsoft Teams is fully accessible in both browser and mobile app form. And because it is part of the Office 365 platform, the interfaces will be very familiar to your team.


When using Microsoft Teams for project management, you can employ various integrations to store project data all in one place so it is easily accessible by all project team members. Furthermore, data can be updated in real time so everyone stays on top of the latest changes.


Because of the increasing number of integrations and the library of applications available with Microsoft Teams, the platform may be your primary means of communication, even if you're using a third-party app for scheduling and task management.


You can use Microsoft Teams for internal and external communications to customize how information is shared and who receives it. For example, you can set up a separate channel to integrate team members from outside the office, all while maintaining a channel with your internal team.
The Cons of Microsoft Teams for Project Management
Using Microsoft Teams for project management is great for smaller projects or as part of your toolkit in managing larger, more complex projects. However, the platform is not as robust as other project management tools, such as Basecamp and Microsoft Project, that can manage very large projects.


As you get more sophisticated or have more complex project management needs, Microsoft Teams alone may not be able to address those needs.


CoreTech's expert team is well versed in making the most of Microsoft Teams for project management, and we can help you set up the platform to meet your company's individual needs.
To find out more, contact us today for a free consultation.