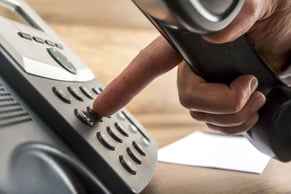 I would estimate that most businesses utilize, at best, around 25% of the features that their phone system has to offer. Make calls, answer calls or let it go to voicemail. That pretty much sums it up, right? Most phone systems offer a variety of functions created simply to make the phone user's life easier. Here are a few features that your system may be capable of that you're not aware of:
Simultaneous Ring
This feature is called different things by different phone manufacturers, but it basically allows calls ringing at your desk phone to ring your cell phone at the same time. This gives you the freedom to roam around the office or even be away from the office and still handle business calls as if you were sitting at your desk. Most phone systems that offer this feature also allow established calls to be transferred back and forth between your cell phone and your desk phone – so if you happen to be just arriving back at your office, you can continue the call on your desk phone. Conversely, if you are on a call on your desk phone and you need to leave, you can move the call to your cell phone.
Pickup Group
This feature allows a group of phones to be pooled together logically in the phone system database. Then, by dialing the pickup group feature code, any phone within that group can answer a call ringing at any other phone in that group. So, if a group member is out of the office, another person from that group is able to answer the call. You don't even need to know which phone is ringing – only that it's a phone within your group. This can be handy in cubicle environments where employees are grouped by function (i.e., sales, service, accounting, etc.).
Unified Messaging
Do you find it counterproductive to have to check emails separately from voicemails? With unified messaging, you can check your voicemails in your email. Whenever a caller leaves a message in your voicemail, this feature allows for those messages to be sent to your email where you can listen to the message through your PC or smart phone.
There are many other features besides these that most phone systems offer. Perhaps it's time you looked further into what your phone system can do for you. Reach out to us at 402.398.9580 and we'll get you connected with one of our Business Development Managers. They'll take a look at the functions your phone system offers, taking into account how your style of business works, and get you set up with the features that will most benefit you.