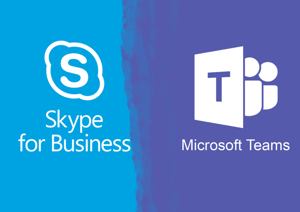 No official End-of-Life date has been announced for Skype for Business thus far, but that doesn't mean it's not being phased out. Microsoft is confident that Microsoft Teams will be able to meet the messaging, meeting, and calling needs of businesses with 500 users or less. So, as of November 2018, if Microsoft believes a Skype for Business user would be better served by Microsoft Teams, they will push them to upgrade from Skype to Teams. New organizations looking for a Microsoft communication platform – and require 500 seats or less – are no longer given the option to sign up for Skype for Business at all.
As a managed service provider for small and midsize businesses, we are starting to see some of our clients get prompted to upgrade to Microsoft Teams. Your Microsoft Admin (whether that's your IT provider or someone in your company) will receive notification emails, telling them that your Skype for Business account is scheduled to be updated to Teams on a specified date. In these emails, you do have the option of simply starting the migration yourself, or you can postpone the update by contacting Microsoft Support.
Although it always takes time to learn a new application, Microsoft states that Teams extends the capabilities of Skype for Business. It brings chat, meetings, audio and video calls, third-party app integration, file sharing, and file storage into one single application. Microsoft views this updated version of Teams as a central hub for teamwork that can help streamline the way users get things done, improving user satisfaction and accelerating business outcomes.
Microsoft Teams allows you to:
Create channels for discussing certain topics with customizable groups of contacts and keep them organized with tabs.
Chat with your coworkers individually, in groups or on channels, in real time. Want to be sure a specific person sees your question on a certain channel? Tag them and they will receive a notification.
Host a video conference with all the members of a channel, instantly, with the click of a button. You also have the option of sharing your screen, recording the session, or even simply hosting an audio call.
Share files on a channel or in a direct message. Users even have the option to live-edit the document together and share comments.
Schedule a meeting through Microsoft Teams and it will sync up with your Outlook Calendar.
Download the mobile app and stay connected with your team while on-the-go.


If your business is interested in making the switch from Skype for Business to Microsoft Teams now, contact us and we can help you get switched over. Otherwise, it's important to be aware that this migration is coming and to keep an eye out for these notifications.