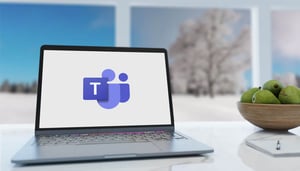 Microsoft Teams Guide
A chat-based work space within Office 365, Microsoft Teams brings together people, ideas and conversations for easy collaboration throughout any office. As more workplaces incorporate remote working, the benefits of Microsoft Teams make it easier than ever to get everyone on the same page. To make the most of Microsoft Teams for your business, learn the Microsoft Teams basics from our group of Microsoft Teams consulting experts.
Using Teams
Whether you're using Microsoft Teams for project management, meetings or other processes, it's easy to stay organized. With this collaboration solution, you can quickly chat with coworkers, sync your calendar with Outlook, track projects and post updates. The beauty of the app is that it can be customized to your individual business needs for functionality and versatility.
Setup
Installing and customizing Microsoft Teams for your business takes time, but there are simple steps you can take at the beginning to personalize the experience.
As with any new technology, the implementation of Microsoft Teams requires detailed planning. Hiring an IT consultant for Microsoft Teams deployment is the best way to ensure that your business takes full advantage of its capabilities.
Features
Microsoft Teams' best features can be customized and leveraged to your individual business needs so you can streamline work processes and improve productivity. Consider the following:
Using

conversational bots

, or chatbots, users can interact with the web service via text, interactive cards and task modules, whether in a one-on-one conversation, a group chat or a Teams channel.
You can keep projects on track with

Approvals

, which allows users to keep their to-do list readily available and submit approval requests with just a few clicks.
Within Microsoft Teams, features such as Teams and Office365 integration as well as Teams calls and conferences let your employees enjoy

real-time collaboration

from the next cubicle, from another office location or from home.
Microsoft continues to roll out

new Teams updates

to improve performance, usability and security. Examples of new features include industry-based templates, increased meeting (and meeting chat) size and new keyboard shortcuts.
As more businesses transition to a remote workforce,

video conferencing

has become an in-demand feature of Microsoft Teams. That's not surprising, given how easy it is to use, its ability to customize video calls and its advanced security features.

Scheduling and hosting meetings

is one of Microsoft Teams' best features, thanks to easy connectivity, the Scheduling Assistant and streamlined pre-meeting communication.
Using

Connectors

, you can improve productivity by connecting to third-party databases such as OneDrive, LinkedIn and DocuSign, or even by creating your own.
Benefits
The benefits of Microsoft Teams are numerous. They include seamless collaboration, organization that keeps everyone on the same page, increased productivity, and data backup and storage in the cloud so you can access your data at any time.
Compliance
For many small businesses, such as healthcare organizations, it's critical to ensure that their business processes are not only secure but also compliant with local, state and federal regulations. With Microsoft Teams, you can leverage certain security features and settings to ensure HIPAA compliance in your workplace. These features include login controls, audit logs, data encryption, email filtering and data storage.
When you're ready to implement Microsoft Teams for your business, CoreTech's expert team will be ready to help you install and customize the app to meet your organization's unique needs and goals.
Contact us today for a free consultation with our Microsoft Teams consulting services experts.