Imagine accessing a mass collaboration tool for everyone to use. A tool that would bring together people, new ideas, and conversations, so they can easily collaborate to achieve more. Good news--this tool actually exists! Microsoft Teams is the new chat-based work space in Office 365 that will allow for collaboration in any office. How can your company benefit from using Microsoft Teams? Read on...
Getting started
First lets start with the basics; how does Microsoft Teams operate? Microsoft Teams is a cross platform software, meaning you can download the app for this on any device- whether you are working with Apple or Android. Once the application is downloaded and installed, you are ready to get to work. Now you may begin to chat, schedule meetings, post emails in threads, and collaborate with your team.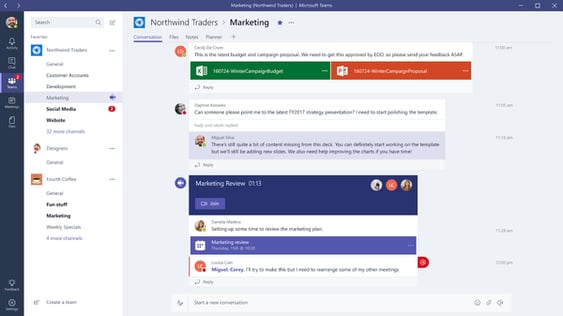 Let's Chat
With the Teams chat feature, you can have more than just a normal conversation. You will actually see your coworkers typing, share documents, and watch editing in real time. You are also able to share your common ideas and goals, becoming more engaged in the project. Everyone's ideas are able to flow freely, all on a single interface. It is a central hub for connection and collaboration that many thought was never possible.
Teamwork
An effective and efficient company is built on teamwork. All employees or participants may come together with one common purpose--to achieve the goal at hand. With the help of Teams, your company will have a hub for collaboration. A virtual platform for everyone to share their data, intelligence and insights, documents, and much more. You will also have built-on access to SharePoint, OneNote, and Skype for Business.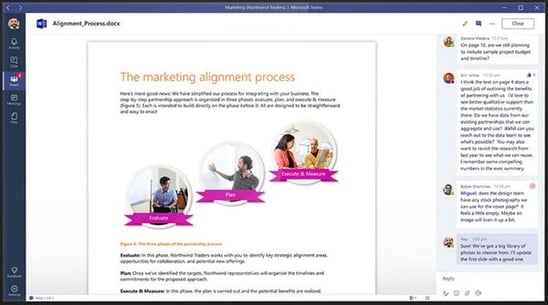 Customization
The best part? Microsoft Teams is entirely customizable. Every team is different so it is important the software is able to adapt to the team. Adoption and engagement will increase when the tools that are tailored to meet unique business needs. For example, Tabs provides quick access to frequently used documents and cloud services. Teams also shares the same Connector model as Exchange, providing notifications and updates from third-party services like Twitter.
Download today!
If your company is looking for a new way to collaborate, increase productivity, and enjoy work, all at the same time--look into using Microsoft Teams. Chat, bring ideas together, customize your work space, communicate in real time, and stay on the same page. Download Teams today!
Sources:
https://news.microsoft.com/november-2016-event/
https://blogs.office.com/2016/11/02/introducing-microsoft-teams-the-chat-based-workspace-in-office-365/