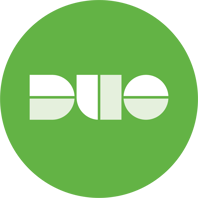 With today's cutting-edge cybercriminals, it's always better to be safe rather than sorry. Hackers have been getting sneakier when it comes to gaining access to one's system. They not only use brute force attacks or dictionary attacks but also search social media profiles for information you would be likely to use as a password (it is unwise to use personal information as part of your passwords). This is where a secondary authentication method comes into play. Dual authentication, or multifactor authentication (MFA), provides a way to confirm that it's you attempting to gain access to the system.
How does DUO work?
Even if a hacker compromises your password, they won't be able to gain access to your system. They would also have to have access to you smartphone's DUO application or the DUO fob that's linked to your account. This stops hackers dead in their tracks! If you are using the DUO phone application, it will alert you if someone attempts to login using your account. This allows you to stay ahead of the hackers for once.
Secure your system with DUO.
DUO provides a few different ways you can lock systems down:
You can specify the source IP address of the location that you are attempting to login form. This provides a security layer that only allows locations you specify to have access to systems.
The DUO phone application allows for SMS passcodes to be sent to your phone when you login with your password. It will also call the specified phone to retrieve passcodes to confirm it is you attempting to login.
One of my favorite methods is through push notifications. This sends an alert to your phone and you have the option to approve or deny the login. This keeps you informed if anyone is using your account.
The last option is the DUO fob. The fob is a small device that randomly generates a code for you to enter when logging in. All these methods are great ways to secure your systems and keep accounts from being hacked.
For more information on how you can use DUO to secure your systems and applications, reach out to your IT Manager or send us a message. We look forward to hearing from you!