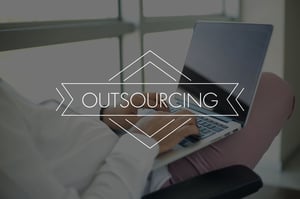 IT managers today have more responsibilities than they did even a few years ago. With so many different issues and ongoing projects to work on, and the critical timeline requirements to go along with those, they don't always have time to do it all.
Depending on the resources the IT manager has available, it may be prudent to outsource IT services so the IT manager can focus on where their talents are best utilized.
As small to midsize businesses begin to scale, their IT manager needs to move away from being the main point person for all staff and the main person executing all the projects. Instead they need time freed up to manage and focus on strategic planning that will help businesses grow. That's why your organization should consider outsourcing IT services to save IT managers' time and possibly money.
Why Outsource to an MSP?
There are a number of advantages to hiring a managed service provider (MSP) to handle IT services that can be outsourced. When you work with an MSP, you know you are dealing with a firm that understands the latest technologies and knows how to apply them to your business. Rather than relying just on your single IT manager's knowledge and experience, you have the advantage of tapping an entire team of knowledgeable people to get work done that your organization needs to accomplish.
IT Services That Can Be Outsourced
It's common for companies to outsource some or all of their IT services to a managed service provider. But some IT services that can be outsourced provide more value, as they free up the IT manager to focus on other core tasks. Here are just a few of the IT services that could be outsourced to save your company time.
IT Help Desk Services
One of the easiest and most popular IT services to outsource to an MSP is the help desk. In fact, businesses are investing 25 to 50 percent more in help-desk related services across the United States because of their affordability and practicality. Help desk services address the typical end-user issues that happen day to day, such as a broken printer, problems accessing email or files or a slow PC.
While these day-to-day operational issues are certainly important to the end user and tied to their productivity, they also take your IT manager time. While IT managers are handling help desk issues, they are interrupted from focusing on other important factors such as IT security and strategic planning.
Hiring an MSP to handle help desk services gives time back to your IT manager to focus on long-term plans and strategic projects. And whereas your IT manager goes home at the end of the day and sometimes needs to take time off, your MSP is able to provide help desk services 24/7, helping keep your staff be productive around the clock.
Network Updates
Another task that companies often outsource to an MSP is network updates. To keep your company safe and productive, it's vital that you routinely update elements within your network such as software, security patches and security tools like firewalls, antivirus and malware protection. These systems have to be constantly updated in order to keep your business systems operating smoothly and to prevent malicious behavior.
However, when your IT manager is busy dealing with day-to-day operational issues as well as big-picture strategic planning, they're more likely to forget or postpone these important updates. Your MSP can easily take on this important task to ensure that you get the updates you need when you need them, which prevents security and operational issues.
IT Security
IT security is an important component of your technology infrastructure, and it is another element of IT services that can be outsourced. Although security ties in with your business's network updates and patches as mentioned above, there are numerous additional tools and resources you will need to consider to maintain a comprehensive IT security strategy. These include advanced threat protection, security-focused network monitoring, dark web monitoring and cybersecurity awareness training, just to name a few.
Coming up with the right security stack can consume a large part of your IT manager's time, and with limited time constraints and resources, it may take longer to set up than anticipated.
By outsourcing your IT security services, your organization receives added peace of mind from our vetted, layered tools, offering the right amount of redundancy and security coverage. Plus, an MSP will manage, monitor and update these services as needed.
Managed Backups
Another service that is commonly outsourced to MSPs is managed backups. Not only will your MSP implement a backup system, but they can help you strategically decide how it will be used. Your MSP can help you determine what critical data will be backed up.
With managed backups, you also don't have to worry about anything happening to the data and applications you have backed up. Managed IT services include your MSP checking to make sure backups are validated. In addition, they will help you recover information when you need it, so that your IT manager doesn't have to spend time looking for backed-up data.
What to Look for in an MSP
Once you have taken a look at what IT services could be outsourced, you'll want to choose a managed service provider that aligns with your business goals. You should look for an MSP that can not only help you get things working but also help you plan strategically. Your MSP needs to know your company's goals and challenges before you start working together.
Your MSP should go beyond simply helping your company get the most out of the technology you've already invested in. They should also bring you ideas and technologies that will help you gain a competitive advantage, while keeping your costs down. If your MSP isn't discussing your options with you on a regular basis, they may not be the right fit.
IT is not one size fits all. This means you should be working with an MSP that understands how your business is unique and what specific tools, technologies and processes will help your business run more efficiently. Your business and market is dynamic and constantly changing. You need to find an MSP that stays current with the technology in order to help you stay competitive.
If you are outsourcing IT security, look for an MSP with a suite of best-in-class security toolsets and infrastructure to keep your organization protected. Your MSP should check in with you at least every six months to make sure that the security plan and tools they have put in place are still effective.
Could CoreTech Be Your MSP?
If you want to outsource your IT services to a managed service provider, CoreTech would love the opportunity to meet with you to determine if a mutual fit is in place. At CoreTech, we sit down with each of our clients regularly (at least once a year) to see how their goals and plans have changed over time so that we can make sure we are recommending the right technology, security, tools and applications to help them remain competitive in the year ahead.
After learning more about your business and its goals, our team works directly with your IT manager and other management staff as necessary to design a strategic plan for the coming year. We put together a technology road map to help keep your business on track for getting the most out of the tools and technology you have invested in or plan to invest in.
By outsourcing the IT services that your IT manager doesn't have time for, we allow your IT manager and the rest of your company to look ahead to future needs and focus on strategic planning.
Want to learn more? Don't hesitate to contact us today.