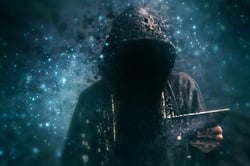 IT support companies and consultants, like CoreTech, talk a great deal about network security and the impact it can have on your business. We also instruct and educate on the importance of antivirus software, Microsoft security updates, firewalls and data backup. The initial investment in these security solutions may seem daunting, however given the consequences of a security breach or downtime you understand the justification. But then you are reminded the investment is ongoing—ouch! As hackers build and change their skills to catch the unsuspecting, you are paying for updates and ongoing protection tools as well.
The investment adds up. At this point, you begin to wonder just how real the threats are for your company. I mean, none or your business colleagues mention security events with their networks. Security concerns are for the big businesses not my small business.
Well, at least one bank must have felt security is a simple matter to be addressed with the least investment possible. As you will see in the blog post from WatchGuard (a network security company), saving money on your security investment can have big dollar implications.
How not to protect a national bank:
https://watchguardsecuritycenter.com/2016/04/22/how-not-to-protect-a-national-bank/

Still uncertain that your investment is worth it? We work day in and day out with small and midsize businesses and know that protecting your technology investment, company data, and uptime is worth it. Give me a call and we'll talk about it.