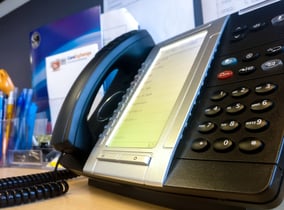 What business owner gets excited about spending money on equipment for their business? None, that I've ever met. Purchasing and installing a whole new business phone system certainly needs to be budgeted for. So, what can you do to keep your business phone system running for as long as possible? Here are a few tips to keep your phone system in optimal condition, for as long as possible.
First and foremost, is protecting your phone system's power source. This requires you to plug your phone into an uninterruptible power supply (UPS). A UPS will prevent surges and power dips from impacting your equipment. This is important because power supplies on older systems are especially susceptible to damage from power fluctuations. Providing protection will extend the life of your power supply, an integral part of your phone system.
Second, is providing the proper environment for your equipment. Keeping the room (or garage, crawl-space, attic, etc.) too hot or too cold can negatively affect system performance. Manufacturers provide recommendations on what temperatures are best for their equipment. However, as an overall rule of thumb, if you're not comfortable when you're in the same environment as your equipment, your equipment probably isn't very comfortable either. Do keep in mind, that electronics are generally better off in cooler temps than in warmer or cold environments.
Next on the list, is keeping your equipment as clean as possible. Dust and dirt can build up on components, causing issues. Water or condensation can also be extremely damaging to phone systems. Keeping the area around the equipment free from clutter helps as well (it's amazing how quickly a space goes from "equipment room" to "storage room"). Keep in mind that phones can not only suffer from issues due to pop or coffee spills, but also from makeup-buildup or oils from your skin. Occasionally cleaning your handset helps the user to hear and be heard.
Last on the list to extend the life of your equipment, is upgrading. Some systems allow phones or components to be upgraded to work at a higher level. However, in the case of Toshiba business phone equipment, there is only so much you can do to extend its life, due to the manufacturers decision to discontinue the supply and support of their products. Since every piece of tech equipment or software has a lifespan, it is important to have a plan in place for when replacements are necessary.
When the life of your equipment can no longer be extended, we're here to help. We will provide you with all the information you need to make the best decision for your business regarding the replacement of equipment. If you would like to discuss your options for extending the life of your current phone system, or it's simply time to replace it, give us a call at 402.398.9580. We can look at your options for on-premise and cloud-based phone systems to find just the right fit for your business.