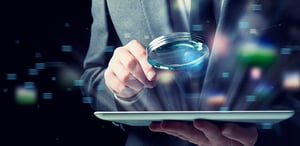 No matter what industry you're in, there is value in using Microsoft Teams for your internal communication and organization. Different people and businesses can use Teams to fit their specific needs, and there are several ways to navigate and utilize the application.
In this article, I've detailed some of the most noteworthy things I've discovered in my short amount of time using Teams, and, particularly in my line of work in cabling installation, I see considerable value in the versatility of this application.
Since the app is part of Microsoft 365, you can stay organized with Teams.
As one of the applications in the Microsoft 365 suite, the functionality of Teams is significant. It integrates seamlessly with 365's other cloud-based applications like Outlook, Word, Excel, and many others that you likely use every single day to conduct business.

Microsoft Teams integrates with all of your favorite business applications.
That means that your files and data are always at hand, and you don't have to switch between numerous windows. Teams acts as a central space for it all, keeping your work organized and your processes streamlined to boost productivity.
Creating and joining Teams is easy, and configuring permissions is a cinch.
As I mentioned above, I am in a different position than others in CoreTech's office. While I will probably not be creating a Team, I will be joining Teams at the request of others.
However, if you are the one creating Teams, doing so is simple and fast. You can build them from scratch, a template, or from other existing Microsoft groups. Joining them is easy, too. You can join from a code or link in an email, or you can search for that Team within your organization. The admin of a Team can easily add or remove members, or alter member permissions with that particular Team, all with a few quick clicks.
How I use Teams to efficiently track cabling jobs—and more.
When it comes to cabling installs, I often have many projects going at once, and that gives me a lot of loose ends to keep track of. With Microsoft Teams, it's simple to monitor job updates, progress, and specifications.
For instance, channels are built within each Team, and each channel can represent a specific ticket or a phase of a project. From there, many different tasks can be accomplished from these channels.
Work on files directly in Teams. You can even collaborate and view edits in real-time.
Post updates. Whether you're just letting someone know a project has been approved or you have a longer update, you can use the rich text editor to add bulleted or numbered lists, emojis, stickers, memes, quotes, tables, articles, videos, and even weather forecasts.
Link company wikis and webpages, or post to Yammer. The possibilities are endless!
Quickly chat with coworkers or dial them up with Teams calls.
While the Teams and channels are great for keeping track of notes on projects, one of the most important elements of this application, for me, are the chats.
There are options for private or group chats, meaning that you can have quick one-on-one conversations, or you can involve the whole team. You can also make calls, audio or video, right from Microsoft Teams. And, if the team member or members you are trying to reach aren't available, you can leave a voicemail.
During calls, you can share your screen, or you can use the whiteboard feature that allows you to brainstorm and innovate from anywhere.
The functionality and versatility of Microsoft Teams is game changing, and anyone can make great use of the application.
I only scratched the surface of what your business can do with Teams, and the possibilities of what you can accomplish are only going to increase as Microsoft continues to roll out new updates.
Like I said in the beginning, different people and organizations will find their own ways of using Teams, but it is an excellent tool your organization should start using today.
Do you have questions about using Microsoft Teams? CoreTech uses it daily to conduct business ourselves, so please do not hesitate to reach out to us today if you have any questions or would like to learn more about the benefits of using Microsoft Teams.