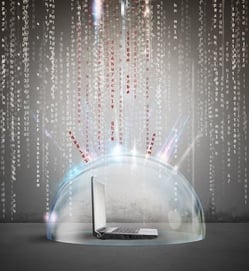 Do you lock your front door?

I assume your answer is yes. Just as you lock your front door to keep intruders out and your valuables in, you should do the same to keep your company's data secure. Your company's version of a deadbolt is called a firewall and it is one of the best ways to keep your data safe.

What is a firewall?

A firewall is a security system that monitors incoming and outgoing network traffic and controls. It permits or blocks traffic based on predetermined security rules.
Firewalls come in various levels of sophistication. A simple and inexpensive firewall will include basic intrusion protection, however may not be adequate for a corporate office, education system, or health care provider. The level of protection may need to be great for these organizations. A very basic firewall that you would purchase for your home device is not the same security you would want for your business. Additionally, a firewall can be a hardware device, a software program, or a combination of the two.

No matter the type, a good firewall should be able to cover these basic types of protection:

• Keeping cybercriminals out
• Checking for and stopping viruses on both incoming and outgoing data
• Blocking employees access to detrimental websites
• Blocking employees access to malicious sites
• Blocking spam emails attempting to get through to employees

More than likely, your company will require an even more advanced level of protection than a basic firewall, UTM (Unified Threat Management) devices and Next Gen Firewalls should then be considered.

Do small businesses need a firewall?

What about small businesses? No cybercriminals could possibly be interested in small business; do they still need a firewall? The answer is a resounding YES!

Hackers are no longer attacking companies based on the amount of money or data they store, like they have in the past. Today, cybercriminals are more attracted to the ease of breach. With the recent attacks becoming automated, hackers can send out thousands of attacks a minute. If your company data is not protected, it won't take long for it to be hacked.

Even if hackers were not an issue, it is still important to keep employees from unknowingly clicking on malicious sites that could download malware. Firewalls provide this protection for you, your business, and your company's contacts.

To determine your necessity for a firewall, ask yourself these two simple questions. If Hackers corrupted or stole your data, how long could you stay in business? How would it affect your reputation if customer data was stolen and then sold or used for additional hacking?

Figuring out what type of Firewall, UTM, or Next Gen Firewall you need can be confusing. The experts at CoreTech will help you with the decision, setup and management of your security device. We will help you "lock your front door".