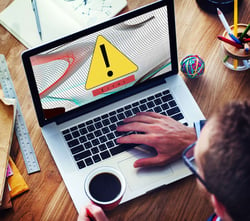 If you were to sell your company tomorrow, what exactly would you pass on to a buyer? More than just a company name on a building; You have records, contracts, contacts, financial data and more that go into making your business unique and valuable. It takes an incredible amount of time to acquire, develop and build that network of information. If disaster struck and your computer crashed, how long would it take you to get all that information back? Your data is one thing you should never gamble with.
You're not going to see a computer crash, virus or hard drive failure coming, just as your coffee cup is not going to warn you that it's planning on falling over and completely destroying your computer next Tuesday at 10 am. You need to be prepared for the possibility that it could happen at any time.
Copies of important data need to be made and then stored in locations separate from your computer. This is how data backup comes into play. It is literally comprised of backup copies of all your important data. Data can be stored on a physical device or online and there are pros and cons of each.
Your most important data may even need to be copied and stored in multiple locations, to ensure that no matter what happens, you will always be able to get it back. Encrypting your stored data should also be taken into consideration depending on the storage venue you decide to employ. Also, remember to keep your backups far enough away from the original files so that if a fire or other disaster occurs, you won't lose both the original and the backup.
The best data backup avenue for your business will depend on the amount of data you need to store, the type of data you need to store, and what size budget you will be working with. You should create a plan for backing up your data, the frequency in which you need to backup your data, and a plan for restoring your data in the case of an emergency.
To find the proper solution for your business it is important to discuss your specific needs with your IT support provider. If you are a small to mid-sized business in the Omaha or Lincoln area, that's CoreTech's specialty. We would be happy to speak with you and come up with a plan that suits your individual business. There is no one-size-fits-all solution here, so if you have any questions or would like to set up a time to go over your data backup needs, please contact us. We look forward to hearing from you!


Sources:
https://biztechmagazine.com/article/2013/05/3-questions-help-smbs-plan-backup-strategy
https://www.cio.com/article/2378019/small-business/how-to-build-a-storage-and-backup-strategy-for-your-small-business.html
https://www.bullguard.com/bullguard-security-center/pc-security/computer-threats/backup-of-data-files-why-it-is-important.aspx
Copyright: rawpixel / 123RF Stock Photo