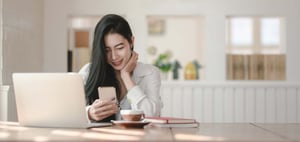 COVID-19 has forced many businesses to revisit their remote work policies. But even before the pandemic, working from home was becoming increasingly common and even necessary for many companies. Now that workers are becoming more accustomed to working outside the office, having a flexible work-from-home policy may become crucial to recruiting and retaining top talent, as well as maintaining morale and work-life balance for current employees.
That means your organization needs robust, secure tools to enable collaboration across multiple workspaces. Fortunately, there are a variety of products designed to help your team do just that. In particular, hosted voice over internet protocol (VoIP) systems offer features that make it easier for employees to stay connected and work together, no matter where they're working from for the day.
Smartphone Compatibility
Hosted VoIP phone systems allow you and your employees to convert your smartphones into a complete communication hub. VoIP applications provide all the best features of your business's desktop phones, right on each employee's smartphone.
With VoIP, you can not only access all of your contacts but also program the system to ring your smartphone anytime someone calls your desk. Other great features include the ability to bounce incoming calls back and forth between desk phones and your smartphone, and easily transfer callers to another extension, without giving away your personal phone number.
PC Applications
If using a smartphone isn't an option or isn't practical for remote teams, hosted phone systems also offer a desktop application. This turns your employee's laptop or PC into a "soft phone," allowing them to make and receive calls from the application on their computer.
Easy Configuration
Setting up remote workflows can be difficult, but using a hosted VoIP system for communication relieves some of the headache of getting remote workstations up and running. Because these systems can operate anywhere there's a Wi-Fi connection, most workers find it easy to install and use VoIP applications without intervention from IT.
Data Storage and Backups
Hosted VoIP systems are just that: hosted on the cloud. Data and applications are stored on cloud servers, not on-site or locally. This means you won't need an on-premise server to host phone systems, which reduces your hardware costs and maintenance responsibilities. It also means you always get access to the most up-to-date software and features without upgrading to a new phone system. And all your data and contacts are backed up in the cloud, with data-center-quality security and redundancy.
Call Transferring and Mirroring
Converting to working from home doesn't have to mean that your organization loses its professional presence. Cloud-based phone systems facilitate this by allowing you to easily transfer calls to other team members, even if you're not in the office. Receptionists, sales call centers, customer service representatives and support teams can all operate remotely without any interruption to clients.
You can even set up your phone system to allow customers to dial into a single support number and ring team members' remote phone setup. Using call mirroring, you can alter caller IDs so that outgoing calls appear to be coming from your headquarters, even when team members are working remotely.
Other Features and Benefits of Hosted VoIP
Beyond the basic features and functionality, you'll also benefit from the following when you upgrade to a cloud-based VoIP phone system.
Microsoft Teams integration. Connect your phone system and contacts with Microsoft Teams to quickly host video conferences, initiate chats and collaborate with team members.
Call recording. Use the desktop application's call recording feature to monitor customer interactions and reference calls quickly.
Predictable spending. Switching to a hosted phone system lets you avoid unexpected hardware and software spending and reduces upfront costs. Instead, you'll pay one monthly fee so you can better budget IT spending.
Better data security. Because your phone system is hosted in a data center, you can feel more confident that stored data won't be compromised.
Ready to learn more? CoreTech's team can get you up and running quickly. We have extensive experience with a variety of cloud phone systems; in fact, we even use them ourselves to run our business. We offer comprehensive support and flexible services to enable your team to work from anywhere, and we can even help you select and configure additional tools to support your remote workforce, such as Microsoft Office 365, video conferencing solutions, cloud applications and document sharing programs.
Contact us today to see how we can help you make your transition to remote work seamless and painless.