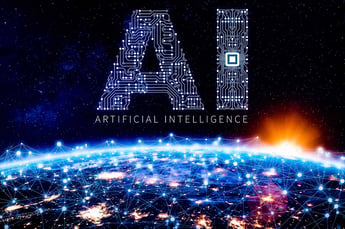 The concept of artificial intelligence (AI) can make people uncomfortable. However, the more factual information people learn about it, the less it will seem like a sci-fi nightmare coming true. So, what exactly is artificial intelligence? Machines or programs that respond to stimulation consistent with traditional responses from humans, given the human capacity for contemplation, judgment, and intention. This allows for decisions, which generally require a human level of expertise, to be made by computers.
What does it do?
AI makes decisions, often using real-time data by using sensors, digital data, and remote inputs that mine information from a variety of sources. The data is analyzed instantly and provides insights based on what is discovered.
Will AI Sink or Swim?
There are some that resist new technology, occasionally due to change, and other times because they simply don't understand what benefits the technology has. We are all influenced by fictional movies and books that use technology in negative ways.
AI can create a competitive advantage for those that utilize its potential. For example, human beings are limited in their availability since they need to eat, sleep, and take time off. AI, on the other hand, can be available 24-hours a day, 7-days a week. Safety is also a major benefit to AI. As machines are able to perform tasks that would be dangerous for humans to complete.
The Good, The Bad, and The Ugly
Although AI may be perceived as a forward-thinking technology, there are aspects that can affect society negatively — for example, the Sharp Eyes program in China. This program allows for constant video surveillance of towns by law enforcement as well as the general public. Law enforcement uses AI to comb through the multitude of videos, social media posts, purchases online, and travel records, to identify people and stores it all in a "police cloud". The database is supposed to keep track of criminals, terrorists, and potential law-breakers, but many believe it is simply meant to make it easy for the government to exert control.
Myths versus Facts
It's important to not take everything said about AI as fact. There are always going to be a lot of myths about AI floating around and it's important to know what's real and what's not. To set the record straight, here are a few examples of myths versus facts.
Myth: Super-intelligence by 2100 is inevitable
Fact: It may happen in decades, centuries, or never. AI experts disagree… there is no consensus on where, when, and who AI will benefit or affect.
Myth: Only Luddites worry about AI
Fact: Until all technical organizations, society, and governments agree on a path forward, many top AI researches are concerned or limited on where to go.
Mythical worry: AI will become evil or sentient
Actual worry: AI becoming competent, with goals not aligned with our own
What to do next?
The best method for understanding AI is to educate yourself about it. Find out what is currently in the works and have discussions with others. Being afraid that the Terminator is right around the corner doesn't help anyone. Also, AI has been around longer than most people think. As early as the 1960's, GM started utilizing Unimate — the first industrial robot. It was tasked with welding and transporting die castings onto cars (tasks that are extremely dangerous and unsafe for human beings). In vehicle manufacturing plants, industrial robots are necessary for producing large quantities of materials.
Banking and finance organizations use AI too. Did you know the Automated Teller Machines of the late 1960's were considered AI? Back then, the fear was that the ATM would eliminate the job of bank teller. Today, AI, machine learning, and big data are all used at banking and financial organizations and bring benefits to both customers and the institutions themselves.
The future is uncertain, but when you look how far we've come in the last 100 years, technology has universally improved our lives and professional abilities. Don't let fear take control, let facts and optimism be your guide.