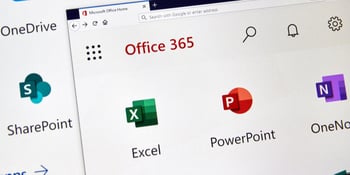 Many businesses use Microsoft Office 365 to simplify and improve the way their teams work both individually and together. But with so many apps and features, some teams may not be taking advantage of everything that 365 has to offer. The software provides numerous ways to increase productivity, but some of those features are well-hidden.
In this post, we'll dive into some of 365's newest and most popular apps while providing tips and tricks on how to get the most out of each one.
Office 365 Word
Word is one of the most commonly used 365 applications, as it offers simple and effective word processing. But 365 goes beyond what the standard desktop app can do by allowing you to collaborate in real time with your team, allowing multiple people to work on a document at the same time.
Here are a few ways you can get more out of this collaborative word processing tool:
Tired of waiting for an email response? Use the chat feature to talk with other team members in real time, all while editing documents.
When leaving comments on a document, you can @mention your colleagues; they will receive an email notification about each comment.
Use Resume Assistant, which is powered by LinkedIn, to see real examples of how people in your field develop resume content.

Office 365 Excel
Excel is another one of 365's most popular apps. With so many different features and functions, you could learn something new about Excel every time you use it.
Here are just a few Excel tips to create more effective spreadsheets:
Need to make sense of complex data? Use pivot tables to simplify data visualization.

Use the Freeze Panes feature to simplify reading long columns or rows of data.

Forecast from historical data by creating charts that show projections generated from time-based data stored in the spreadsheet.
For better displays, transpose data from a row to a column.
Office 365 PowerPoint
PowerPoint has certainly changed the way organizations display information and create presentations. While you may currently be using PowerPoint to create basic slideshows, there is a wealth of features you can use to take your presentations to the next level.
Here are a few ways to do just that:
Use the Zoom feature to jump from one section of a slide to another.
Want to jazz up your presentation? Use a looped video for the slide background.
Create your own icons from simple shapes and make your presentation more personalized and unique.



Office 365 Sway
Microsoft Sway is a relatively new 365 app that's marketed as an easy-to-use digital storytelling app. Many people use it as an alternative to PowerPoint. Sway takes care of most of the design work for you, allowing you to focus more on developing your content. You can even password-protect your Sways as long as you have a 365 account.
Here are a few of the helpful features this app offers:
With Remix, try different design combos until you find the one that works best for you.

Change the layout to a vertical scroll, horizontal scroll or presentation layout.

Use block quotes to make important text stand out and draw your audience's attention to vital messages.
Embed your Sway on your website as a new way to present information to your audience.
Overall, Sway has a number of settings and design options that you can experiment with to create engaging presentations that command attention.
Office 365 Forms
Did you know that you can create surveys, quizzes and polls in Microsoft Office 365? While many people may rely on Google Forms, Microsoft Forms has a cleaner interface with several interesting features.
Here's how to get the most out of Forms:
Add seven different types of questions to your forms, including multiple-choice, text, rating, date, ranking or Net Promoter Score.

Filter who can and cannot access forms. You can give anyone with the link access or only choose to show the form to people within your organization.

If you want to share your form in a blog, email or piece of print marketing, you can use a QR code that participants can scan to access the form.

You can easily look at an overview of the survey, quiz or poll data, as well as look at individual responses.
Microsoft Forms is a great tool for teams that need to gather and organize information from multiple sources. The app offers a quick and easy way to collect customer feedback, measure employee satisfaction and organize events.
Office 365 Teams Tips
Most businesses use some kind of chat app so teammates can collaborate and get quick answers to their questions without sending an email or leaving their desks. While there are a lot of great chat apps out there, Microsoft Teams is a strong team collaboration app within the 365 ecosystem. It features text chat, meetings, calls and collaboration tools.
Here are a few ways you can get more out of Teams:
Use live captions during video conferences or meetings to provide additional information.
Add tabs to your conversations to better organize your chat messages, files, events and more.

Streamline operations with a calendar that syncs directly with Microsoft Outlook.
Customize what types of notifications you receive so you don't miss a message.

Microsoft Teams is the ideal communication tool for businesses that are already working in Office 365, as it allows them to keep all of their collaboration and conversation on the same platform without having to pay for an additional tool.
Are you ready to get started with Microsoft Office 365, or do you have questions about trying some of the lesser-known features that we mentioned in this post?
We can help! Contact us today to learn more about integrating Office 365 into your business operations or to ask any questions you may have about Microsoft applications.