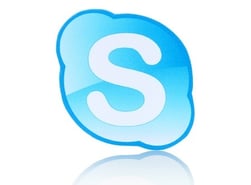 For those of you that are not familiar with Skype for Business it is a communication app that lets you connect with fellow co-workers, business partners or clients in your company, around the United States or world.
Skype is part of the Office 365 package and works with your other Office programs. Let's explore six basic features of Skype Business.
Instant Messaging - The most basic function of Skype for Business is instant messaging which can be done within your business/organization or with other users outside of your business that are also using Skype for Business. A transcript of your IM conversation is saved for later viewing and reference. This is helpful if you were given some information that you did not make note of at the time of your conversation but realize you would like at a later date.
Improve your mobile experience – As we continue to become more and more mobile we can use Skype for Business to keep in touch with your office using your laptop, tablet or smart phone. This allows for mobile IM's along with video conferencing and file sharing from anywhere. Also your conversation transcript moves with you from one device to another.
You can see when other users are available– Your contact list will show if they are currently available, offline, Away or Busy along with if they are video capable. This information is determined by each person's Outlook Calendar. You can also manually change your own availability status.
Send a file instantly – While in an IM conversation or video chat you can send a file directly through Skype. Great for a "please look this over" without having to leave your IM conversation.
Video Conferencing - With Skype for Business you can have up to 250 people join a meeting using their PC's, laptops, tablets or smart phones. Joining a meeting is as easy as clicking on the calendar invite, your meeting reminder or the Skype for Business app. Meeting can be created in the same manner as scheduling an Outlook calendar meeting. You can also request members to join you via the Skype for Business app on an ad hoc basis.
Content sharing during a video conference – During a video conference call you can share your desktop with the conference members and give control to other users to make changes to the document that is shared. This can be done in a Skype for Business meeting, call or instant messaging conversation.
Take advantage of the time-saving and collaborative benefits that Skype offers your business! Learn about, or buy Skype for Business by contacting CoreTech at the button below.