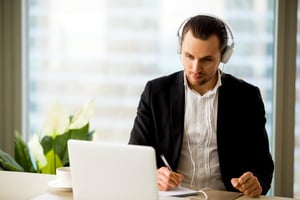 If your employees are required to use a computer, tablet, or smartphone in order to do any aspect of their job, they absolutely need cyber security awareness training. The threat of a cyber security attack or data breach is now simply a cost of doing business in today's world. It's no longer a question of if, now it's when will your business experience some form of cyber security attack? So, instead of leaving one of your most valuable cyber security assets defenseless in the face of phishing emails, hackers, and malware, arm your staff with the knowledge they need in order to keep your business, customer data, and their own personal information safe.
Since the vast majority of people are not going to squeal with excitement at the thought of completing cyber security training, we've compiled a list of 5 steps for getting your staff and coworkers to see the value in your business's cyber security initiative and hop on board. Check it out:
1. Start by Using Real-Life Examples
Far too many small to midsize businesses still believe they are immune to cyber attacks because they're too small of a target to be worth a hacker's time. However, statistically small businesses are the target of 43% of cyber attacks. Big businesses may have more money to steal, but they can also afford to spend more of that money on cyber security safeguards and therefore tend to be more difficult targets.
New stories about data breaches and ransomware come at a constant flow in the news. Find an example that reminds you of your business and that your staff will relate to. The idea is to get them to stop thinking about cyber security as something hypothetical that only affects other people and show them how these things really can happen to them and your organization.
2. Get Them to Understand Why it Should Matter to Them
Now that your staff knows there's potential for your business to be the target of a cyber attack, the next thing on your list is to help them understand why this is something they need to think about. No matter how many firewalls, spam filters, and antivirus a business installs, there's always a chance that a well-disguised phishing email will slip through the cracks. This is where your staff come in to play. They are often the last gatekeeper standing between your business and a malicious payload.
No one wants to be the person that gets tricked into wiring money to the wrong person; believes they're opening a simple invoice but unleashes ransomware, bringing business to a screeching halt; is responsible for clicking the link that leaked every single one of your customer's credit card numbers to be auctioned-off on the dark web. But these are all very real scenarios that can happen in an instant to anyone that isn't paying attention or doesn't know what to look for.
3. Equip Them With the Knowledge They Need to Be Successful
Learning about the absolute destruction that can come from a cyber security incident can quickly become overwhelming. The point of cyber security training is to instill confidence in your employees that if they can understand how to spot red-flags they are capable of preventing these types of breaches. They need to know that if they absorb the knowledge presented in their cyber security training that they are qualified and capable of stopping a cyber attack before it starts.
Let your employees know how you plan to set them up for success in the realm of cyber security. What training will you provide? Will you provide different types of offerings for different learning styles? What time will they be given in order to complete the training?
4. Utilize Continual Engagement
One training session, once a year isn't going to cut it when it comes to keeping your staff up-to-date and knowledgeable about cyber security. It's important to create continuous opportunities for your staff to not only learn, but also put their knowledge to the test.
Information should be portrayed in an engaging way that gets to the point swiftly. Once staff have the opportunity to absorb the information, as opposed to simply quizzing them on facts and figures, phishing simulations can test their knowledge in a more realistic environment. You can also use the results you obtain to gauge where more training is needed and how effective your education program is.
5. Make it Into a Competition
Another way to gain more buy-in to your cyber security awareness training is to make a competition out of it. Create teams, work toward goals, and reward those taking security efforts seriously. Competition is a great way to create accountability and comradery among peers without having to set rigid guidelines and enforcement.
Cyber security training may not seem like the most exciting venture to undertake, but adding in a little competition can make all the difference. Plus your business will reap the benefits. A knowledgeable staff base is one of the most important pieces to maintain in your business's cyber security arsenal.
Need help with your business's cyber security education program? Contact us!