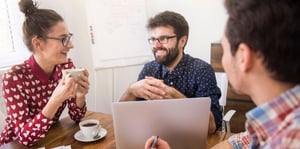 Cyber security threats have only increased in frequency in 2020, and the techniques that criminals are using are only becoming more sophisticated. To protect your business from cyber threats, you need to safeguard your assets with a robust cyber security setup—one that includes numerous layers and defenses.
And, while there are several technological solutions your organization needs to have in place, your first line of defense is actually your staff.
That's where cyber security awareness comes into play. These staff members must know what threats they are facing, as well as the best ways to avoid falling victim. They must buy into the idea that cyber security is important, and that means that your company needs to foster a cyber security culture.
Of course, this change in the culture of your organization won't happen overnight. It will take some hard work and some time to get everyone on the same page.
But, to help with that process, we've written this article on four ways your Omaha organization can develop a cyber security culture.
What is cyber security culture?
The term cyber security culture refers to the knowledge, beliefs, perceptions, attitudes, assumptions, norms and values of your staff in relation to their behavior with IT security. When your organization has it, both leadership teams and employees think and behave in a way that elevates the importance of keeping the company's and their own data and equipment secure.
Why is
cyber security
culture
important?
An adequate cyber security configuration involves vital policies and procedures—more than just a firewall, antivirus system and other threat detection technologies. However, many organizations neglect the human factor when developing their cyber security strategies and frameworks, but humans are the greatest vulnerability in your network.
Criminals attempt to access organizations through phishing emails, phony websites, and other similar tactics, which is why employees need to bolster your first line of defense, not leave gaps. Employees are the ones who will receive those emails and visit those phony websites, and employees also have access to your organization's IT systems, posing significant risk to your organization.
How can you develop a cyber security culture in your Omaha organization?
To ensure your employees help defend your systems and understand the dangers that they are faced with, there are four ways you can start developing a cyber security culture for your business.
Get everyone involved
And we do mean everyone, from the top-down. Employees will follow their leadership team's example, so it's important for any executives as well as middle management to buy into the importance of their role in helping keep the organization secure.
Establish procedures and policies
You can start with the basics here and then work forward. Your company should clearly document its policies on IT security. Some of those policies can include:
Acceptable use

& compliance requirements

Levels of access for specific individuals and teams

Strong password requirements and management

Enabling 2FA/MFA on all company-managed devices
Incident response plans and reporting procedures
Educate
your staff on the importance of a robust security posture
Explain to your employees that cyber security is a fundamental necessity for the business, and that they are crucial to keeping the team secure from potential threats. But keep in mind that this is not a one-and-done process. In fact, in order for your new cyber security culture to take root in your organization, you must remind them on an ongoing basis, and do so in a variety of ways.
Occasional emails about new risks are just one way you can educate your staff. They should have immediate access to security policies and procedures, and they should also undergo ongoing, comprehensive awareness training.
Build awareness through ongoing training and application
It only takes one wrong click to compromise your whole system, so it pays to be prepared. With awareness training modules and phishing tests, you can monitor employee awareness of the latest threats. You can then offer additional lessons where they may be required.
Top tip: Don't make your training requirements boring. A bland PowerPoint will do little to educate your employees. Instead try video modules and even gamification with quizzes. These are more interactive and are
more likely to stay at the forefront of your employees' memories.
How CoreTech can help
CoreTech has served Omaha-area businesses for 20 years, and we know how important cyber security is to your organization—that includes your employees. That's why we offer cyber security awareness training services for the Omaha, Lincoln and Council Bluffs metro areas.
We also know that cyber security is different for every organization, and we're happy to discuss your specific needs for equipment, applications and training.
Contact us today to schedule a meeting with our expert team.