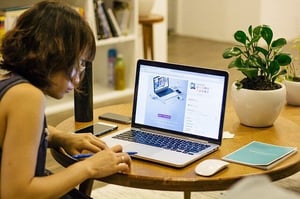 Do you know if your remote workers are as secure as they can be?
As part of the learning curve in establishing work-from-home policies and procedures, businesses also had to search for adequate solutions for new cyber security threats. While cyber security is always a concern, there are solutions to minimize those threats for remote workers.
In this post, we'll detail three of the best ways your remote workers can reduce risk and work more securely.
What Your Employees Need to Watch For
Right now, the most prevalent cyber security threat for remote workers is phishing attacks. Hackers and identity thieves are taking advantage of COVID-19 and other current events to get personal information from unsuspecting workers. And when employees are working remotely, their attention to security issues may wane.
To combat phishing attacks, it's important to conduct consistent phishing testing, training and education for those working from home. To help employees spot phishing attacks, instruct them to do the following:
Hover their cursor over the website link to see if it looks legitimate. Usually, they'll see what appears to be a legitimate link, such as amazon.com. In a possible phishing attack, however, the link may show something clearly unrelated to the sender or content of the email.
Never click on a link or open attachments from someone they don't know. If they receive a link or an attachment from someone they do know, call and verify that they sent it.
Don't ignore misspellings and bad grammar in an email, which may also indicate a phishing attack.
Learn more about the anatomy of a phishing email here.
3 Solutions to Minimize Cyber Security Threats
Minimizing cyber security threats depends greatly on the type of devices and network you have in place for employees working from home. This involves three primary solutions:
For permanent remote workers, you need a permanent solution such as a remote desktop (RD) gateway. This is a highly secure device on the network that allows people to connect remotely. It isolates the PC on the remote end from the rest of the network. However, there is one downside to this solution; Microsoft requires you to pay licensing costs to put a RD gateway in place. Nevertheless, this would be the preferred, and most secure solution.



For remote workers using company-owned devices, these devices should contain company-owned security software to protect data. Partnering it with a VPN will securely connect the device to the company's network.
For employees using their own personal devices, it's important to install remote control software that completely isolates the device from the company network. Examples of remote control software include ConnectWise Control (formerly ScreenConnect) or LogMeIn. While the remote device is isolated from the company's network, however, there are still security risks.
For example, if the device has been compromised with key loggers, those could capture the worker's credentials as they remotely log into the system. Therefore, it's critical for the employee to install and maintain strong antivirus software on their device.
Another concern is limiting websites that remote workers can visit when logged into the company network from their personal devices. Remote workers should install filtering applications that limit websites they can visit so the company and its network are not compromised by inappropriate or illegal websites.
Ideally, using personal devices would only be a temporary solution.
Regardless of which solution you choose, make sure every device is equipped with up-to-date advanced endpoint protection (antivirus) software. This is especially important for personal devices. In addition, laptops, particularly company-owned devices, should have encryption software to protect business data in the event that they are stolen.
With years of experience in a breadth of industries, CoreTech is well positioned to help you build the right network and solutions for cyber security threats to your remote workers. Contact us today to find out more.