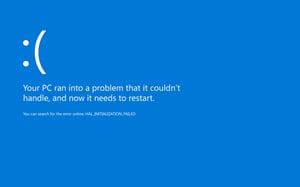 Just thinking of the possibility of having to shut down your computer can stress some people out. Many of us have gotten to the point where we're logged in to several programs, working on multiple assignments at once. Thus, having to restart your computer and start-up/log-in to each application again seems like a lot of work. But what you don't realize is that you're actually wasting more time and causing more problems for yourself by never rebooting your computer.
As your managed service provider, we recommend that you reboot your computers once a week. Many of you may have wondered, "What advantage is there for me to follow this recommendation?" The main thing for you to understand is that taking a couple minutes a week to reboot your computer will help ensure that your computer is running under the best possible conditions with regards to memory, applications and updates. Also, updates don't take effect until your computer has been restarted. But, if you're logged in when the update was performed, we are not able to restart your computer remotely. So, taking those couple of minutes to restart your computer every week saves you from dealing with slower speeds, crashes and more constant, frustrating malfunctions.
For more in depth information on the benefits of regularly rebooting your computer, check out this article Reasons to Reboot Your Computer Nightly by Thomas McNish. While this author recommends rebooting every night (which you can do without any issues) we feel that within a normal business environment, once a week is good for maintaining optimal performance.
Questions? Please reach out to us. We are always happy to discuss best practices for keeping your computer functioning for as long as possible.