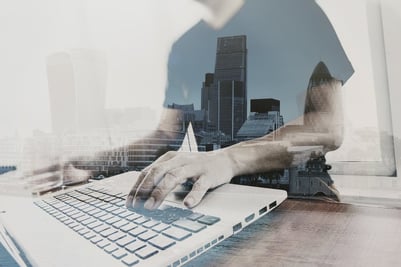 One of the most common responses from help desk support is: "Have you tried turning the device off and then on again?" While it may seem redundant, this solution is commonly recommended as a quick and easy fix for many problems involving your computer or printer. But how do you efficiently turn off and on devices when they vary so much in form and function, or when the power button can be a sleep button in disguise? Enter: Power cycling. Keep reading to learn more about the differences between power cycling vs restarting.
Power Cycling vs. Restarting: What is the Difference?
What is power cycling?
Power cycling forces an electronic device to completely turn off, then turns it back on for a clean startup, shutting down all leftover processes and applications from the last session.
The most common and reliable method of power cycling involves powering down the device, then removing the power cable from the device for a minimum of 30 seconds. This disconnects individual components of the device from a steady power source. Holding the device's power button for roughly 5-10 seconds will flush out any residual power in the machine. Reconnecting the power cable and starting the device will give it a fresh start.
It is important to know that holding the power button for less than 5 seconds will result in the device going into sleep mode rather than powering down the device itself. Sleep mode maintains data when the screen is off, meaning any issues you are experiencing will still be there once the device is turned back on. A clear indicator of computer sleep mode is if the screen turns on after moving the mouse around. Otherwise, if the manufacturer's logo pops up as you reboot the computer, you have completed a power cycle.
Why is power cycling useful?
While computers and devices with a graphical user interface (GUI) give options to shut down the machine, other standard peripherals, such as label printers and card scanners, do not offer the same functions. Peripherals commonly have minor communication issues or enter unresponsive states that are not immediately apparent, nor can they be resolved by just pushing the power button. CoreTech is able to fix most tickets involving label printers by power cycling the printer.
Power cycling gives you a troubleshooting method that goes deeper than a common restart. Some complex devices with graphical interfaces experience issues that are not as obvious as GUI. Application or OS bugs caught in physical memory resist regular restarts. However, the power cycle will clean application or OS bugs in physical memory. A power cycle can also resolve faulty USB or ethernet ports if the issue is due to miscommunication between the port and the machine.
Power cycling vs. restarting
Power cycling and restarting are similar, however, they are also different enough to be helpful in separate instances.
Restarting a device is a more agile process that momentarily disconnects power by keeping the device's hardware running while restarting the software or operating system.
Power cycling, due to the complete disconnect from a source of energy and flushing of power from the internal hardware, is a harder reset. Power cycling forces the hardware and software to restart, clearing out any issues stuck in physical memory or problems relating to ports like USB and ethernet. When possible, power cycling should always be done after powering down a device to preserve integrity.
If your issue is with software, restart your device.
If your problem is hardware, connection-based, or a matter of unresponsiveness, then power cycle.
We hope this tip has been useful!
Power cycling is a simple troubleshooting method that anyone can consistently employ to resolve minor issues. Power cycling can save employees both time and headache, as delays in workflow due to unresponsive devices can be solved in a matter of minutes, rather than submitting a ticket or waiting for a solution.
CoreTech | Omaha IT Services
Does your business need a power cycle? CoreTech helps small to midsize businesses in Omaha with their technology planning. CoreTech offers strategic consultants who can review your technology, get to know your business, developing a plan and budget to meet your business goals.
Contact us today to set up a discussion!