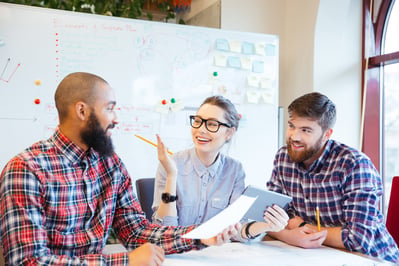 As a business grows and matures, so does the demand for quality IT services. Adapting to growth impacts all areas of your Omaha business, from personnel to workflow management. To succeed, your business needs to be scalable and prepared for changes that occur both internally and externally.
Are you on a growth path but struggling to put in place scalable technology that supports your business goals? We know the struggle and have deployed tools to help business owners, managers, and CFOs put a proactive plan in place. So, let us walk through what a technology roadmap looks like and how it can benefit you and your team.
What is a technology roadmap?
Simply put, a technology roadmap is a visual document, illustrating what technology you currently have, and what you plan to integrate with future technology projects and upgrades. It reflects initiatives, products, services, projects, and strategies you need to purchase and undergo to increase productivity and meet your business goals.
The technology roadmap takes into consideration all facets of the business, including each department and employees' roles. At the same time, the plan avoids costly mistakes and anticipates the obsolescence of applications or equipment. For a technology roadmap to be useful, you need to outline short- and long-term goals that align with your business strategy and are realistic and measurable.
How does a technology roadmap evolve?
The technology roadmap begins after you select an outsourced IT provider, and they start onboarding your business. The technical team will come on-site and gain access remotely to determine what your business has in place, including equipment location, system efficiency, and IT security measures.
During the onboarding evaluation, your IT consultant will consider technology obsolescence and analyze the impact between replacement or maintenance. Warranties are reviewed and obtained if necessary.  Software applications are a key component of your productivity, so what you use is discussed to combine the best products that help you reach your business, solidifying the budget goals put in place. Complimentary systems that could increase productivity even further are reviewed as well.
All discussions, information and analyses are reviewed, and recommendations are given as to what the business should invest in and plan for. This includes a structured form conveying the technology roadmap, what they can expect in their IT Budget, and what they should be spending for the upcoming year.
After a technology roadmap is implemented, don't let it collect dust—refer to it quarterly. Update your IT support provider with changes and have a discussion with them about any adjustments or new items that need to be considered. Bring their suggestions to the discussion as well. Annually, review and update the technology roadmap to reflect the plan for the years ahead.  
How does a technology roadmap benefit your business?
A customized technology roadmap aligns with your growth and is a visual way to prepare for the future of your Omaha business. Additional benefits of creating a technology roadmap include:
Maintaining a competitive edge in your market

Eliminating downtime while increasing productivity within the office

Trimming out unnecessary technologies, applications, and subscriptions

Improving your IT support and cybersecurity

Becoming aware of weaknesses in your IT infrastructure, which allow you to avoid potential or future system failures

Clearly seeing your company's information as a whole and how it can help with business decisions
Are you ready to get your technology plan back on track?
At CoreTech, we work with you and your team to create a technology roadmap that takes into consideration your business goals and budget. Dial IT up by contacting us today about our IT consulting services and how we can strategically place you on a path that produces desired outcomes for your business and your technology.