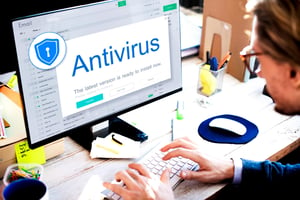 We have so much information at our fingertips, providing endless opportunities, but with that good, comes a continuous stream of cyber threats. Considering the pervasive presence of cyber criminals today, you need a line of security that's as tough as anything they can throw at you.
You probably already know about the need for antivirus software — but is it strong enough to stand on its own? What about reducing the viruses and malware that make their way onto your computers and network in the first place? You've surely heard about firewalls— but, do you know if you actually need one?
To meet minimum security requirements and protect your business from damaging attacks, it's essential to have both antivirus and a firewall on your network — here's why.
What Is Antivirus Software and Why Do You Need It?
Antivirus, comparable to an assassin, does its job quietly and efficiently, taking care of the "bad guys" for you, while minimizing the impact on your staff and their computers.
Antivirus software works by detecting and removing viruses, bots, and other malware from your computers. These threats find their way onto your computer similarly to the way humans spread actual viruses — through direct contact. This means that any time you plug-in infected USB devices, open malicious email attachments, or click on unsafe links, you're exposing your desktop, server and network to a potential cyber attack. That's why every organization needs antivirus software to detect any infections, so that they can be immediately treated.
Why Do You Need a Firewall and How Will It Help Reduce Cyber Threats?

While antivirus software is the tool that detects and removes harmful malware from your computer, a firewall prevents that malware and other infections from reaching your computer in the first place. As your first line of defense, a firewall acts as the barrier between the internet and your network. It decides if the information it's receiving is safe enough to meet your security settings.
There are three security measures that are triggered when that incoming data hits your firewall:
The firewall decides whether or not the data is safe enough to enter or exit your network.
It inspects the data to decide if it's free of malware or viruses. More sophisticated types of firewalls will also review the source of the information and where it's headed, to determine whether it appeared as a response to a request or showed up on its own.
If the information seems suspicious or unsafe, the firewall will forbid access to your network, based on a set of predetermined security measures created by the network administrator.


Do You Really Need Both?
As you can see, antivirus software and firewalls have very different but important purposes. Each tool affords you network security at different stages along the flow of data. But the important thing to remember is that they work together to provide a higher, more complex level of protection. This complementary pairing can block potential hackers from stealing confidential information like credit card numbers and company assets. By monitoring for potential malware attacks and blocking suspicious sites, antivirus software and a firewall will protect your networks and servers from harm — which means peace of mind for your business.
Investing in this layered security effort is a crucial measure for any organization, even small businesses. In fact, the percentage of small businesses that experienced a cyber attack rose from 55% to 61% in just one year.
If you're ready to take a proactive approach and protect your business and data before a cyber attack, that's where we come in. At CoreTech, our expert team will create a layered security solution to arm your business with sophisticated threat detection and prevention. Contact us today to get started!