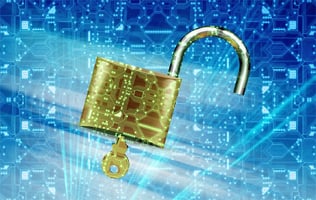 A firewall is an essential part of any business IT system. This physical piece of hardware secures your access to the internet, helping prevent unauthorized and malicious users from accessing your system and files. In the past, businesses worried about external actors gaining access to their systems. Today, it is just as important for businesses to make sure that the people within their organization are using the internet securely.
Just as you have to constantly update and monitor the endpoint security software on your work stations, you must do the same with your firewall. Your managed service provider (MSP) can provide managed firewall services to monitor and maintain your firewall- and even provide the device itself. Below, we'll discuss what a managed firewall is and why your business needs it.
What Is a Managed Firewall?
A managed firewall is a service provided by IT companies that involves monitoring network traffic, identifying atypical use and addressing security threats. In addition to monitoring your network, the provider that manages your firewall will also help establish, maintain and modify firewall rules while providing feedback, reports and analysis. This means your small business does not have to keep your own staff up to speed on the equipment, how to use it, or implement updates on a regular basis.
Most MSPs try to standardize their products across clients, ensuring everyone uses the same equipment setup. . At CoreTech, we provide not only monitoring and managing of the firewall, but the hardware as well. We vet all vendor equipment to make sure our clients use best-in-class products.
Instead of asking our customers to buy the firewall that meets our standards, we invest in the physical technology, install it and handle all of the maintenance, updating, renewal and replacement of hardware. It is all provided as a monthly IT service.
Benefits of a Managed Firewall
Here are just a few of the benefits of engaging CoreTech for managed firewall services:
1. No Upfront Hardware Investment
Engaging CoreTech gives your business a best-in-class product. You benefit from a strong and layered security appliance, as well as not having to pay the upfront equipment investment.
There is no value in businesses owning security products anymore, as they are changing and updated regularly. That's one of the biggest reasons why we at CoreTech recommend a managed firewall service that doesn't require you to purchase equipment or maintain the updates to that equipment software.
2. No Onsite Servers for Logging and Reporting
Another benefit of our managed firewall service is that we don't require our clients to have servers onsite for logging and reporting firewall activity.
Instead, the firewalls report back to a central data center, where we can collect any information we need. Our system continuously monitors the firewalls to determine if there are any hardware errors or if they are being over-utilized.
3. Improved Security
Perhaps the greatest benefit of our managed firewall service is that it gives you peace of mind, because you know that a team of experts is monitoring your firewall.
Even organizations with in-house IT security staff may have trouble keeping up with IT security, as it requires constant learning to keep everything updated and optimized. At CoreTech, our team of security experts has experience working with firewall monitoring for clients in numerous industries
Coordination of security components is key to a successful security strategy, and we know that all the resources in our security tech stack work well together and provide the appropriate amount of overlap without too much redundancy. This means that you don't have to spend time figuring out what pieces of equipment are compatible with one another, or struggle to piece together a makeshift solution.
How CoreTech Can Help
A managed firewall should be part of your comprehensive IT security strategy, and when you choose CoreTech as your IT security provider, we will provide you with the equipment you need, so there are no up-front investments in hardware. We will also manage renewals and replacements, so you don't have to worry about any upgrades along the way, either.
In addition to providing you with the firewall hardware, CoreTech will also handle all monitoring and reporting, ensuring that your network is safe and secure. Our team of IT experts has a broad range of knowledge and experience in IT security, so we know how to protect your business from today's most sophisticated cyber security threats.
To learn more about managed firewalls or to find out how our services can help your business, contact us today.