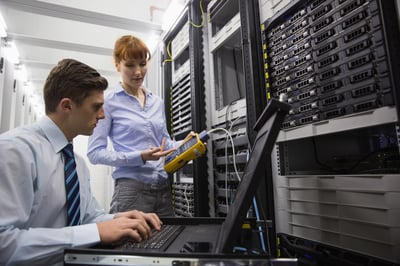 A cyber attack can be devastating to your company's operations. Small Business Trends estimates the average cost of cyber-attacks on small businesses to be over $25,000. Unfortunately, small businesses are a frequent target of cyber criminals. As a business owner, you must be vigilant to ensure your business is protected and not infected with viruses. This takes time and resources from your organization that might be needed elsewhere.
Outsourcing your IT security services is a great way to ensure your company is safe. Regardless of the size of your business, outsourcing some, or all, of your cyber security, can provide benefits that directly affect your bottom line. Here are the top five reasons to outsource your business cyber security.
1. It's cost-efficient
Cyber security is a critical part of running a business, but it's also something that can be expensive to maintain in-house. It requires hiring a team of IT security professionals, providing ongoing training, and purchasing tools to protect your company. This may be out of reach for small companies. Thankfully, outsourcing your cyber security to an Omaha IT security provider allows you to keep your systems secure without a large investment or changes to your infrastructure.
Large companies with IT security services in-house may still outsource some of the responsibilities. This shields you from the complexity and uncertainty of managing your own IT security while providing you with expert support when you need it most. It saves you time and money by reducing the need for you to make constant adjustments and modifications because you can outsource many of those responsibilities. Outsourcing your cyber security to an Omaha IT security provider can save you a lot of time and money.
2. You gain a high level of expertise
When you outsource some, or all, of your IT security services, you expand your cyber security team without having to invest large amounts of capital. This not only saves you money but also allows you to hire the best cyber security specialists available. A professional team skilled in cyber security can provide customized solutions for your business.
As you grow and make changes to your organization, your IT security services must grow with it. Adding remote employees, for example, adds a layer of complexity to cyber security. A skilled IT security team can integrate remote employees with ease. An outsourced Omaha IT security provider has the resources to scale its services as your business grows. They already have vetted and assessed vendors, which cover every aspect of exposure and risk your business may have.
3. Your threat response time improves
To successfully protect your network from cyber threats, you need to respond quickly – every second counts. The damage done to your systems is directly related to the amount of time the hacker has access to your systems. This could mean the difference between rebuilding a computer or recovering entire systems. In other words, it could mean the loss of a few thousand dollars or hundreds of thousands of dollars.
An outsourced cyber security team has professionals ready 24/7 to quickly address your critical issues. They provide an extra level of security without adding a burden to your staff. You never need to worry about being short-staffed or behind because your outsourced Omaha IT security provider has a team that is prepared and ready.
4. Access to the latest cyber security technology
The speed at which hackers make changes and update their methods is significant. Your IT security tools, methods, and educational program should as well. An outsourced cyber security team has a narrow focus. They stay current with the latest technology and regularly test and implement the best options. They are always looking for ways to improve and provide the best service to their clients.
As the number of cyber attacks has risen, the number of cyber security solutions has risen. This means that a company without the latest IT security tools, resources, and education can be easily outmaneuvered. Your outsourced Omaha IT security provider will have the latest security tools and skilled resources to keep your network and data safe. You can rest easy knowing your company's security is in good hands.
5. Increased productivity
Maintaining your technology and keeping your systems secure requires time, energy, and focus. As a business owner, you have many responsibilities that require your attention. Your staff also has other responsibilities, such as responding to your customers and maintaining your products and services. Even if you have IT professionals in-house, their time may need to be focused on installing new equipment or maintaining current systems. Outsourcing your cyber security frees time and resources that can be spent on tasks to increase productivity.
You and your staff can focus on other important projects and long-term strategies for your business while your Omaha IT security provider keeps your systems safe and running smoothly. As a business owner, your focus is on the bottom line. Outsourcing your IT security services keeps your organization safe while saving you time and money, thereby increasing your bottom line.
We'd love to work with you!
We have cyber security professionals at CoreTech that work with small to large organizations all over the Omaha, Lincoln, and Council Bluffs area. We are happy to answer your questions about the latest technologies and best practices for cyber security. Contact us today to learn more!