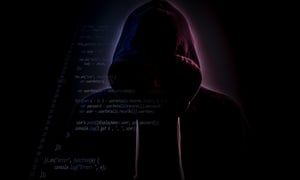 There are thousands upon thousands of items sold on the dark web daily, and we've detailed seven of them in the post below.
Snapshots of particular auction listings are courtesy of ID Agent's "Digital Risk" presentation from March 2021.
Credit card numbers
One of the most common items sold on the dark web includes credit card numbers. Often, they are sold at a discounted bulk rate as seen in the examples below.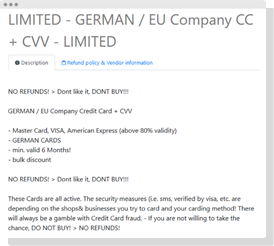 Example 1: German Credit Cards and Security Codes
In the first example, the seller is targeting primarily German cards, and is selling them at a bulk discount. The seller is also adamant about all sales being final.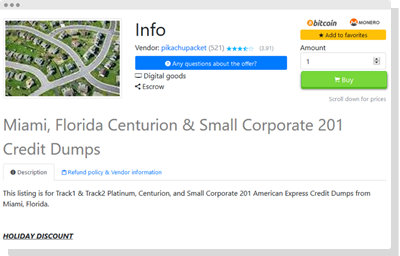 Example 2: 201 Business Credit Cards
In Example 2, the seller has put on a festive sale—201 American Express credit cards—with a special deal just in time for the holidays. All joking aside, cyber criminals will generate buzz and additional traffic by offering discounts like traditional advertising.
Zoom account credentials and meeting IDs
This one became popular during the pandemic as everyone shifted to remote work, but the issue persists. Cyber criminals are posting and selling verified Zoom accounts on the dark web. The links being auctioned included email addresses, passwords, meeting IDs, host keys and names, and the type of Zoom account.
While most of these were personal Zoom accounts, some were business-oriented, and still warrant attention in this blog article.

Bank account and routing numbers
Also typically sold in bulk, bank account and routing numbers surface every day on the dark web. In the examples below, the criminal is selling US business banking information, stating that the information is perfect for committing ACH transfer fraud.


Examples 4 & 5: Business Bank Account and Routing Numbers, Details
Voter registration info
Voter fraud and scams make the rounds in global headlines all the time, but entire lists of voter data are up for grabs in dark web auctions.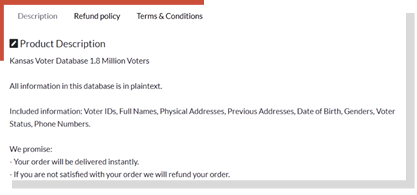 Example 6: Kansas Voter Data – 1.8 Million Residents
In Example 7 below, buyers can actually choose which state database they would like to purchase.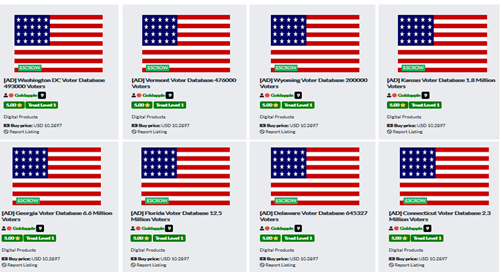 Example 7: Voter Registration Data, By State
Employee login credentials and other personally identifiable information
Businesses are a common target for dark web criminals, and the example below details the extent of such a sale, including information like:
Employee email addresses

Company name

Address

City, State, ZIP

Phone numbers

Websites

Employee numbers

Sale volumes

Company vocation

Fax numbers





Example 8: Business Database Information, 8 Million Records
"

Fullz

" datasets – complete profiles of information used to commit identity theft
Datasets of full identities are so popular that stock sells out quickly. They also sell cheaply, with some complete identities going for just $8!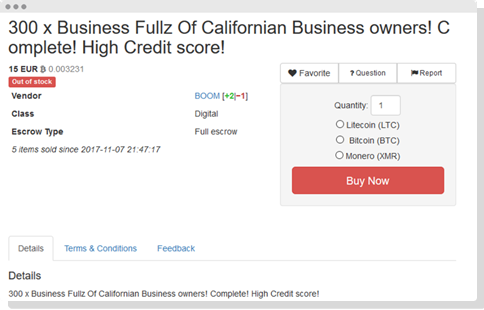 Example 9: Complete identity datasets. Sold out due to popular demand
What else is on the dark web? Job listings—lucrative ones, too.
The dark web is, as you've seen throughout this post, filled with information cyber criminals can use to make a quick buck or wreak havoc on businesses. However, their market is like the surface web, and you can even find job postings like the one below.
They are worded similarly to Indeed or LinkedIn job postings in the regular job market—and just take a look at those potential salaries!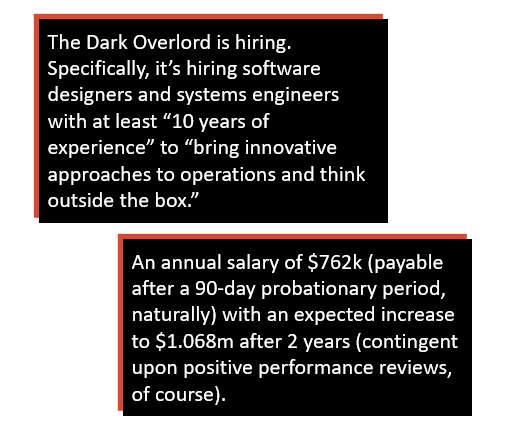 Dark web monitoring from CoreTech can help!
CoreTech can help keep your business information off the dark web—and alert you if it does show up in a bidding war.
With dark web monitoring, one of the IT security solutions offered at CoreTech, you can find out if your staff credentials or other company information are making the rounds on the seedy underbelly of the internet, the dark web.
Our solution combines intelligence and search capabilities to help detect and alert you when your company login information shows up on the dark web. That way, you can change passwords or make other updates before a serious IT security breach occurs.
Request your free scan today. It's fast and easy - just click the button below to get started.
And, if you're curious about the current status of your business's IT security setup, contact CoreTech to schedule a complete cyber security assessment.