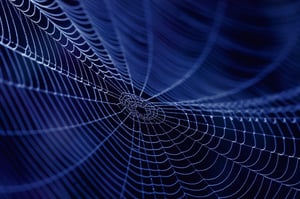 Every organization conducts business online, but you may not realize that the Web is much larger and more complex than most of us are aware of. In fact, the portion of the web that you use for day-to-day activity is just the tip of the iceberg.
There's also the deep web, and the malevolent-sounding dark web.
It's important to understand the differences among the surface web, the deep web and the dark web, as well as what you can do to protect your information from ending up for sale on the dark web.
What is the surface web?
As I mentioned briefly above, the surface web is what we use every day. It's what I used to research this article; it contains social, non-profit, and educational websites to name just a few. And, most importantly to you, it's how many of your customers learn about and first interact with your business.
The surface web is the portion of the Web that is available to the general public. It is indexed and searchable, and it can be accessed using a standard browser like Google Chrome or Microsoft Edge.
Even with everything that you can do on the surface web, it only makes up about 4-5% of the total World Wide Web.
What is the deep web?
The deep web, on the other hand, is not searchable. It's not indexed by search engines, and in order to access these areas of the Web, users must have login credentials or a specific URL.
The deep web includes databases such as medical and financial records, and legal documents. Often, it houses some scientific and government reports, too, as well as information only available to subscribers for a particular service.
What is the dark web?
The dark web is the most difficult to access, as it requires special software and equipment. Two of the more popular tools for this are Tor and I2P. Both are used to provide anonymity for users.
Most access the dark web for illicit activity, including selling illegal material like drugs, weapons, malware packages, and data stolen from others. However, it's important to note that the Dark Web isn't entirely comprised of illegal activity and malicious cyber criminals. Many organizations use the Dark Web to protect confidential resources and protect identities.
One specific example of legitimate use of the dark web is keeping journalists anonymous during crisis situations.
Why should my business be concerned about the dark web?
All it takes is one cyber attack to compromise your business data. Once hackers have access to your systems, they have the potential to view, manipulate, and even steal massive amounts of information. When they do take information, it often ends up for sale on the dark web.
Social security numbers, bank account information and driver's licenses can go for pennies on the dollar, and if it's your organization's customer data that gets leaked or sold, you could face serious legal repercussions, too.
One example of
a ransomware attack turned into a dark web auction:
CD Projekt Red (CDPR), a game development company based in Poland, became the victim of a ransomware attack at the beginning of February.
Cyber criminals hacked into the company's systems, compromising their data and gaining access to the source code for all CDPR games, including their latest game, Cyberpunk 2077, along with other popular games like Witcher 3 and Gwent.
The cyber criminals held the data hostage, threatening to auction the source code on the dark web if CDPR did not respond within 48 hours.
CDPR refused to pay the ransom, and a few days later, the hackers reportedly sold the source code and other internal information stolen from the development company—the media has not announced who purchased the data or the amount it was sold for.
The CDPR debacle is an extreme example of what can happen to any organization's proprietary work, as well as confidential or personal information if cyber criminals gain access to your IT systems.
How can I protect my business information from being sold on the dark web?
As with many other cyber security threats we have discussed on the Technology Unwrapped blog, keeping your business information safe requires proactive solutions. Your business needs to implement a continuous dark web monitoring tool.
These services will scan the web's seedy underbelly, looking for any credentials or other stolen information related to your business. If the solution's artificial intelligence detects your company's information on the dark web, you'll receive a real-time alert.
Why do I need dark web monitoring?
Your credentials could already be on the dark web, and you may not even realize it. With a dark web monitoring solution, you'll have an awareness of compromised information, so you can change those at-risk credentials before they are used to cause further damage to your IT networks, systems, or your business reputation.
What other IT security solutions does my business need?
In addition to dark web monitoring, your business needs a robust, layered, and comprehensive cyber security setup. Discover 15 other ways you can secure your business with our free 1-page checklist. Just click the button below.
IT security is no longer optional, but it doesn't have to be complicated.
Let the cyber security experts at CoreTech help your business improve its cyber security stature. Our team is CompTIA Security Trustmark+ certified, meaning we have the solutions and the expertise to offer additional peace of mind. And, we're one of the only MSPs in the Omaha and Lincoln area who can claim that designation.
We'll meet with you to discuss your business, and then we'll recommend the best IT security configuration to ensure optimal protection.
Contact us today to have a free dark web scan completed for your business.