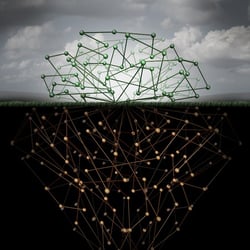 So how many of you watched the series CSI: Cyber before it was cancelled? Like many other detective dramas, they often talked about the "DARK WEB" (dramatic music playing in background). Sounds scary, right?? Then they throw in the term "Deep Web" to really confuse us. Although I have begun to grasp the idea of what the Dark Web is, there is still a bit of mystery to it. What I do know is that when my data was stolen from a large insurance firm I was told that my personal information was being sold on the Dark Web—not a place I want to go shopping!
I recently ran across an article written by the Microsoft in Business Team that explains the different layers of the World Wide Web that I found very interesting and informative. It not only explains the difference between the layers, but also explains the importance of good security so that your personal data does not end up on the Dark Web.
Article Link: Journey Through the World Wide Web
If you have any questions as to how to implement the recommendations or would like to discuss any vulnerabilities you may have, please give us a call at 402.398.9580. We would be happy to assist you!