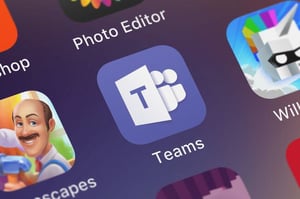 From calls, chats, video conferencing, and everything in between, Microsoft Teams is a powerhouse for keeping your work and correspondence all within one interface.
And there's no shortage of features and capabilities on Microsoft Teams, either. In fact, it might feel like we've only scratched the surface in our previous posts on Teams. So in today's post, I'm going to detail seven lesser-known tips and tricks for maximizing your use of Microsoft Teams.
1. Forward email messages directly to channels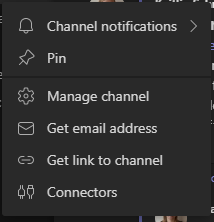 And say goodbye to the dreaded email chain at the same time!
To forward an email from Outlook to Teams, navigate to the channel you intend to send it to. Then, click the ellipsis next to the channel name in your list of Teams.
Select "Get email address." Then, copy and paste that email address into the "To" line in the email you're forwarding. Press send, and your email will be inserted as a conversation into that channel! Your group can then see the email and communicate about it within Teams, providing an easy-to-follow communication flow, unlike the typical email chain.
2. Integrate other apps, known as connectors
Connectors allow you to take your Teams use to the next level. Including popular apps such as LinkedIn, DocuSign, Twitter, and more, you can engage in numerous ways.
To install a new app on your Teams interface, click on the "Apps" button in the bottom right corner. Browse for the app you want to start using. Once you've found it, click on it and then press "Add."
Don't see an application that will serve the purpose you're looking for? You can even build custom apps.
3. Bookmark messages to easily find them again later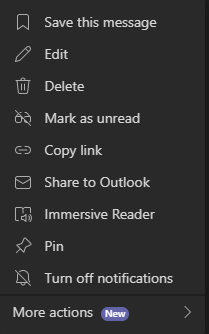 Sometimes, finding your most important messages is difficult, especially when you receive so many throughout the day. Microsoft Teams allows you to bookmark messages so you can easily refer back to them.
To bookmark a message, and access your bookmarks, click the ellipsis on any message (it will appear next to the reaction emojis when you hover over it). Select "Save this Message."
Then, navigate to your profile picture at the top of the page. Click on it and then find "Saved." Select this menu to see all saved messages and find the one you're looking for. It's that simple!
4. Pin your most important apps to the left menu
If you have a lot of integrated apps that you use regularly, you may benefit from pinning apps to the menu on the left side of the screen. Beneath your Activity, Chat, Teams, Calendar, Calls, and Files tabs, you can pin additional apps.
To pin an app, first ensure you have it open. In this case, I opened OneNote. To pin it to the menu, all you need to do is right click on the app and select "Pin."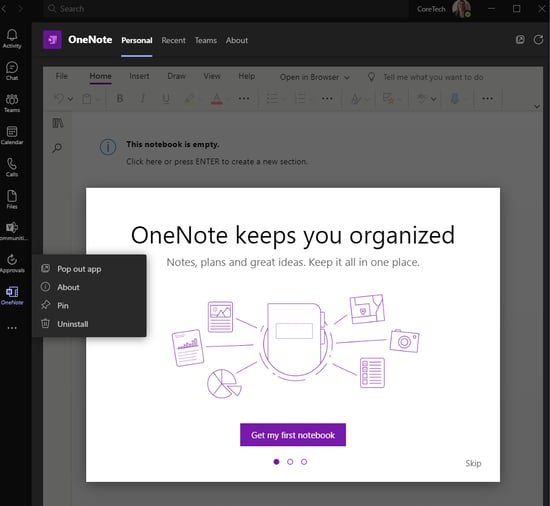 5. Add custom tabs to your channels
You can turn your frequently used applications into tabs at the top of any channel. Simply click the "+" at the top of your desired channel. A new menu will appear giving you several options for apps. You can also link documents, webpages, and other helpful items.
Let's say I wanted to link a website to the top of our "Blog Coordination" channel.

I would then select "website" from the app options that appear.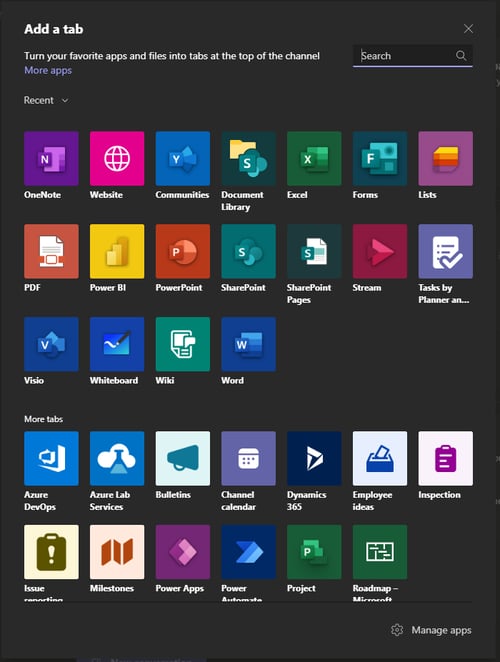 From there, I enter the tab name and the URL, and then we're set!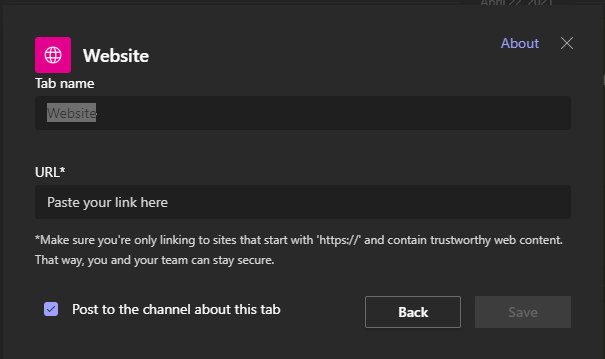 6. Send polls using the Forms integration
Do you need to conduct a quick poll or survey in your organization? You can do so directly through Teams. As long as you have the Forms integration installed on Teams, you can easily build and send a Microsoft Form in a matter of minutes—and once you share it in a chat or channel, everyone will have access to it.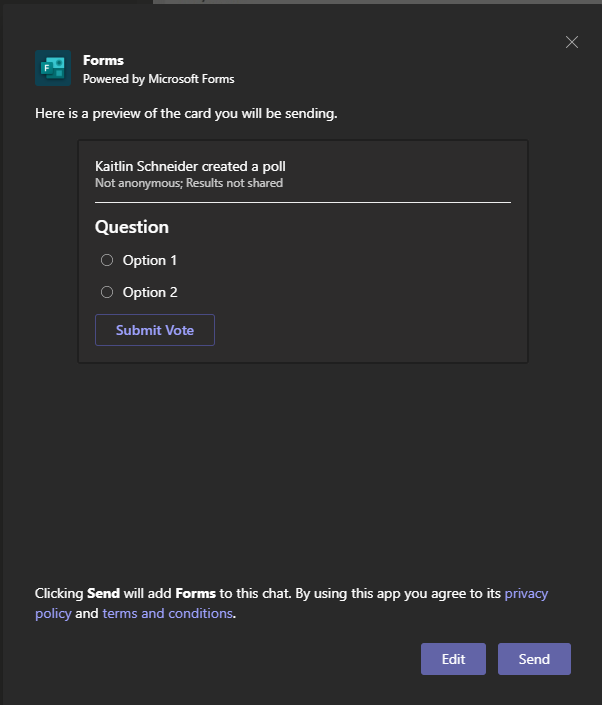 7. Ping only select groups with tag mentions
Sometimes, not everyone in a Team or channel needs to see an update. However, to alter tags, you have to be a Team owner. This permission allows you to manually create and assign tags to people, such as "Designer," "Manager," "Sales," etc.
Once the tags have been configured correctly, you can @-mention the tag to notify the correct group of people, such as:
A marketing manager notifying all graphic designers.

A sales manager notifying the rest of his or her team.

An exec notifying all management, but

no other staff members.

A system engineer messaging other

system

administrators, but not end users.
Looking to take your company's communication and collaboration even further? Microsoft Teams is the answer.
If you have questions or concerns about getting started with the Microsoft Teams platform, or if you've been using the platform but need some assistance getting it to work for your business, contact CoreTech today.
Our expert team uses the application daily, so we know the features and stay updated on the newest changes. Check out our Microsoft Teams Consulting Page to find out more about our services.
What are your favorite Microsoft Teams tips and tricks? Did we miss one? Drop us a comment below!