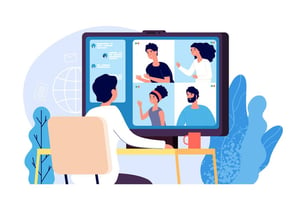 Imagine this: you're making steady progress on your to-do list, crossing another completed project off for the week, but you have a big meeting to coordinate before you can start tackling the rest.
That means gathering information from previous conversations, and to find all that information, you might have to go back quite a bit in your email inbox to find the right thread of the right email chain.
You'll be pleased to know that Microsoft offers a much better way of handling workplace communication: Microsoft Teams. When using Microsoft Teams for meetings, you can leverage many features that make scheduling and preparing for meetings a breeze, so you can get out of your inbox and back to the other items on your to-do list.
1. Connect anywhere, on any device.
Teams is a cloud-based application, which means it will work anywhere and on any device or operating system. So, if you have mobile workers that can't make the company meeting from their desks, they can connect via their smartphones or other mobile devices. The same is true when using Microsoft Teams for external meetings.
So, if you're like me and are currently working from a laptop, you can join the call directly from your favorite comfy chair in the living room.
Pro tip: We strongly recommend installing the Microsoft Teams smartphone app—it's a handy way to quickly access your chat and Team notifications if you're away from your laptop or desktop.
2. Pre-meeting communication is instant and streamlined in Microsoft Teams.
Do you have questions about certain topics or ideas before the meeting? Maybe you need a specific answer from a person or a few people about last quarter's strategies.
With Microsoft teams for meetings, you have several options for starting a line of communication, and all of them are faster and easier than delving into your email inbox.
Instead, you can:
Start a group chat. Or, you can start a quick one-on-one directly with the person you know has the answer. Either way, it's done with the press of a button.


Make a post within a Teams channel. Just go to the appropriate channel and hit the "New Conversation" button. @-mention anyone you need to ask the question to, or use "@+channel-name" to notify everyone who is a member of that channel.


Make a quick video or audio call. Sometimes it's easier, or quicker, to talk to a coworker. If that's the case for you, you can connect with anyone in your organization directly from the "Chat" or "Calls" panes in Microsoft Teams.


Pro tip: If you have a lot of group chats about different projects, you can change the chat name to make tracking your conversations easier. To do so, click on the chat you would like to edit. The name of the chat will currently be a list of members. Just click the pencil icon near the list of names, enter your desired chat name, and press enter!

3.Use the Scheduling Assistant on your Teams calendar, which syncs with Outlook.
We've all been there, unable to schedule a meeting because no one can agree on a time that works for everyone who needs to attend.
Enter the Scheduling Assistant within Microsoft Teams. Using the same functionality as the assistant in Microsoft Outlook, the "Calendar" tab allows you to schedule your meetings directly within Teams.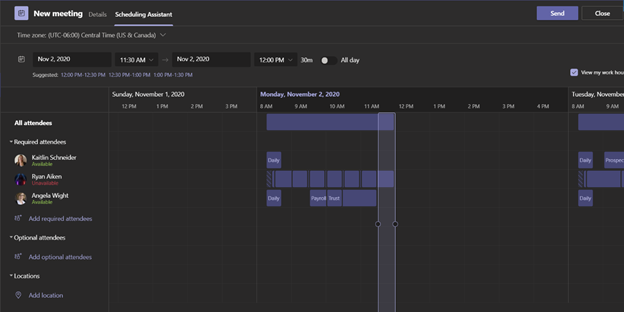 After creating a new meeting, I could quickly see when my attendees were available using the Microsoft Teams Scheduling Assistant.
No more hopping back and forth between windows and applications to determine what works best for everyone! Simply use the Scheduling Assistant to look for an open time, then block out that time for the meeting. Microsoft Teams will automatically send invites to everyone's Outlook calendars, and the apps will sync up automatically as well.
Pro tip: While you're setting up your meeting invites, you can easily share your meeting agenda – just copy and paste your text into the "details" box, or copy a link to a OneDrive file to keep all of your agenda notes in the same place.
4. Keep agendas and other documents together using Microsoft Teams.
You know you saw it somewhere in that reply-all email thread—the agenda draft for your meeting—but you just can't seem to put a finger on it. Fortunately, when using Microsoft Teams for meetings, you can keep all relevant documents in the same channel for easy access for the entire Team, and you can even co-edit those files in real-time.
When you upload a file to Microsoft Teams, you create a copy of the file that is instantly accessible to everyone who is currently a member of that channel. So, you won't get ten different emails asking you to resend the notes. Instead, everyone will have access to what they need to in order to have a productive meeting—and a productive start to the project after the meeting has ended.
Pro tip: Have important files you need even quicker access to? You can pin your files to the top of the list on any channel's "Files" tab.

5. Schedule your meeting directly within Teams to streamline the process even further.
Stop fretting about remembering meeting room names, finding Zoom links, or dealing with pesky passwords to access your meetings.
You can schedule, start, and join your meeting right from the Teams "Calendar" tab. Or, if your meeting is associated with a specific channel, you can join the meeting directly from the channel when the time comes.
How to Schedule & Start a Meeting in Microsoft Teams
Navigate to the "Calendar" tab and click the "New Meeting" button.


Fill in the relevant details, including the meeting title, participants to invite, the time and date, corresponding Teams channel, recurrence, location and any other details like an agenda or notes. Then, press save. Your attendees will receive invites just like they would with an Outlook calendar appointment.


When it's time to start or join your meeting, navigate back to the "Calendar" tab and click on the appointment block. A window will appear showing the meeting information. Click the "join" button and begin your meeting. It's that simple!

During the meeting you can share your screen, draw up innovations on the Whiteboard, or use "Together Mode," to make it seem like you're all in the same room—no matter where you actually are.
Pro tip: When you're selecting a time to schedule your meeting, names will turn red if those invited are already booked during the desired time.
6. Did someone miss the meeting? It's easy for them to get caught up.
The convenient organizational features of Microsoft Teams for meetings eliminate having to get everyone up to speed if they weren't able to attend your meeting. All of the necessary documents are right where they need to be in Teams, and all people involved in the project have instant access to them.
Plus, with the ability to record Teams calls, your employees can get a quick refresher on anything they might need to know before starting their piece of the project, simply by playing back the recording in Microsoft Stream.
Pro tip: To make video meeting recordings even more beneficial for your employees, ensure that you have live captioning turned on.
If meetings feel like a hassle, Microsoft Teams is the application you're looking for.
With many different features, Microsoft Teams provides an array of benefits for scheduling and preparing all of your company meetings.
Whether you have daily check-ins with your department, weekly project updates with a manager, or even town halls for your entire organization, Microsoft Teams is the place to have them all.
Using Microsoft Teams for meetings means your meeting documents and conversations leading up to the meeting are readily accessible, and you'll no longer have to drudge through your overflowing email inbox to find pertinent information.
Do you want to have more productive collaboration, meetings and workplace communication?
Contact CoreTech today to learn about the many benefits of using Microsoft Teams for meetings—and how your business can take advantage of all of them.