When our company first switched to remote work, it was a bit of an adjustment. I had to get used to sharing the dining room of a one-bedroom apartment as an office with my fiancé. When we had meetings, we didn't want to interrupt the other's workflow, so headphones were necessary.
For a time, I settled for the subpar voice and sound quality of a simple pair of earbuds. And, those earbuds sufficed, for a time. But then the sound started cutting out. So, I had to find a different pair, and the cycle continued.
However, now that I have a professional headset, I would never go back to those earbuds.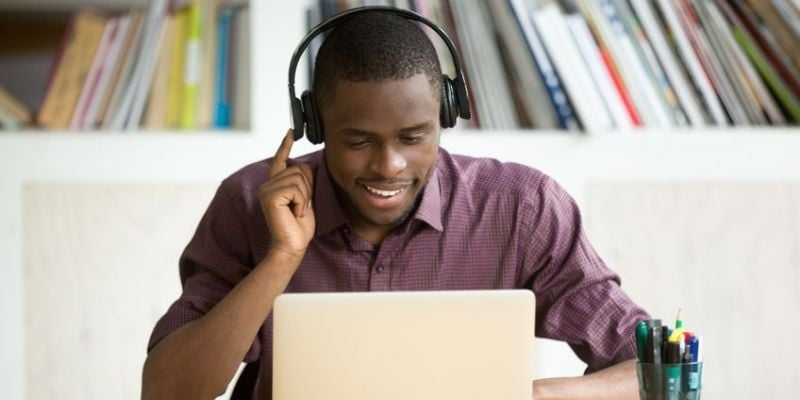 With a professional headset, communication is clearer, and more comfortable.
Plus, I am more productive since I can step away from the computer but still hear the phone ring. And take calls even if I'm up and moving around.
It's a safe bet your employees would think similarly. Here's why your employees need professional headsets, both in and out of the office.
Clearer Communication
Most earbuds, and even your laptop's built-in sound system, aren't equipped with noise canceling features.
So, if your neighbor's dog is barking, or your other neighbor fires up the chainsaw in the middle of your video call, it's hard to stay focused.
Professional headsets come equipped with Active Noise Canceling (ANC) technology, reducing background noise, and allowing you to better focus on the conversation.
Comfort – and better posture!
Spending a lot of time on video calls is normal today, but wearing earbuds for prolonged periods of time isn't. The plastic buds cause major discomfort.
Plus, if you're often answering a desk phone, holding a handset up to your ear hurts your posture.
Cradling the phone between your neck and shoulder causes back pain and increases tension, too. That's why many doctors and chiropractors recommend a headset.
More professional—and productive
No matter where your employees are working, they will want to maintain a professional presence and be connected. Not only do headsets look more professional than a simple pair of earbuds, but they're also proven to help workers be more productive.
In fact:
78% of those surveyed by Poly said headsets increase productivity

72% of those surveyed by Poly said headsets improve the customer experience

74% of those surveyed by Poly said they can make decisions faster and collaborate better
How are headsets making employees more productive?
A hands-free headset allows you to use both hands, enabling typing, writing notes, shuffling through documents—the possibilities are endless. All while on a call.
Plus, a wireless headset frees you up to move from your desk but still take calls, provided you're within range of your computer or docking station.
Compatibility with your favorite applications
Chances are high that your organization is using Microsoft Teams, Zoom, GoTo, or a similar platform for video conferencing. Wouldn't it be great if your headset automatically integrated with your chosen platform?
Professional headsets integrate across all unified communication platforms, expanding your ability to chat, call, and collaborate with customers, partners, and teammates.
These integrations also help your IT team. As long as your employees are using a single platform for communications, IT staff can track and maintain the equipment more easily, allowing for simplified management and troubleshooting.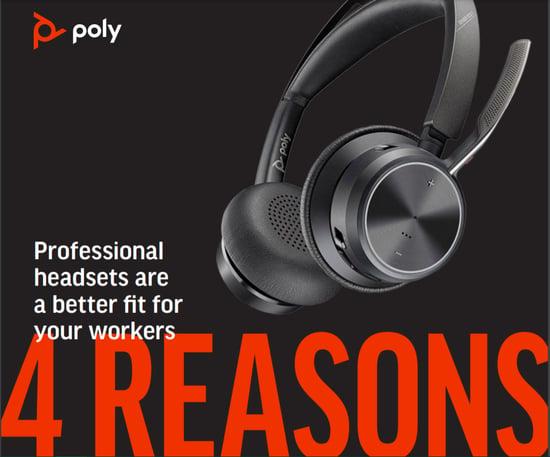 Find out why professional headsets are the best fit for your business communication. Download the FREE infographic today.
If your employees are struggling with unclear or spotty communication on video calls, professional headsets are the answer.
It's time to break away from the mismatched earbuds and distracted video calls.
The experts at CoreTech can help you determine the best professional headset solution for your organization.
Reach out to us today to find out more.
Additional Resources: