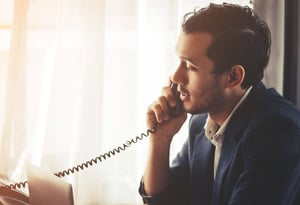 Back in 2018, we wrote about Mitel's (owner of Toshiba phone systems) announcement to phase out Toshiba CIX and IPedge product lines. Since that writing, the company has since stopped selling new Toshiba equipment and add-on hardware.
More importantly, however, Mitel will stop providing manufacturer support on October 31, 2021. After this date, known as the end-of-life (EOL) date, support will no longer be available for Toshiba systems.
What does that mean for your Toshiba
business
phone system?
If you are a current Toshiba user, the approaching EOL doesn't mean that your phone system will just stop working on Oct. 31, 2021—this isn't a Y2K situation. However, it will become more difficult to find and obtain replacement parts.
You may also be thinking, "My Toshiba phone system is running just fine right now—there's no need to keep reading."
While that first part may be true, there are several reasons why your organization should never use outdated technology or equipment.
We've detailed four of those reasons, along with the next steps you should take if you are currently using a Toshiba phone system in your organization.
Hardware Failures
Should your outdated phone system develop faults or crash completely, it may or may not be possible to fix it. Repairs are dependent on several factors, including the cost and availability of parts, as well as the availability of technicians qualified to work on the product.
If you do manage to find the scarce parts that you need for your repair, prices are likely to rise, putting greater pressure on your organization's budget.
Security Issues
While hardware failures and system crashes are both key things to avoid, another important topic to consider is security.
If you are using an outdated phone system, you will not have the latest software available, so there may be gaps in your system that present opportunities for cyber criminals or hackers. Software updates ensure these gaps stay closed, and if you are using an unmaintained version of a piece of hardware, such as a Toshiba phone system, then that system will run less smoothly and present greater risk for your organization.
Increased Company Downtime
As your Toshiba phone system ages, it is more likely to crash, and without a wide expanse of available parts, that means that your company will face increased periods of downtime. Downtime is detrimental for several reasons, including not only lost productivity and revenue, but also the increased likelihood that you will have to spend more to get your system back up and running.
Poor Customer Experience
Not only is outdated technology expensive, to maintain, but it can also seriously affect your customer's experience with your organization. Say a new customer called in, ready to do business with you.
One of your associates answers the call, but your phone system is faulty, and the connection is intermittent. Eventually the call drops completely. That new customer tries calling back, because they are interested in your company, but they can't connect.
As the situation spirals out of control—due to your faulty phone system—you have lost potential business due to a less than satisfactory customer experience with your organization.
Reputational Impacts
That unhappy almost-customer mentioned above isn't the end of the effect your phone system has on your business. In fact, that prospect will no doubt spread the word about the experience, and before you know it, that one instance has started to tarnish your business reputation. And that is even harder to bounce back from than technical failures.
The success of your business hinges on the ability to communicate effectively.
Don't let an outdated Toshiba phone system call the shots and wind up costing you more money in the long run. Here's what to do next, especially because EOL is rapidly approaching.
Contact your telephone system
partner
.
Find out what your options are and determine the correct path to take with your Toshiba phone system. Likely, they will suggest one of these three options.
Invest in a New System. If it's in the cards for your organization to invest in a new phone system, this is the option for you. There are plenty of products out there, and CoreTech can help you decide which business phone system is right for you.
Maintain Your Current System. Maybe you are unable to cover the investment of a new phone system right now. Perhaps you've already determined your budget—that's alright! The expert technicians at CoreTech have the skills and parts to help you stay operational.
Get a Crash Kit. You're not looking to invest in a new system or hire someone to maintain your phone system upkeep at this time, but you should plan to purchase a crash kit to repair your phone in the event of a hardware failure. CoreTech can put together the crash kit for your organization, so you're prepared should things go south.
CoreTech's
expert,
qualified
unified communications team is ready to support your organization, no matter what path you choose.
Our UC support staff are certified to work with Toshiba phone systems, and they have the knowledge and expertise to keep your phones functioning at maximum capacity.
Contact CoreTech to learn more about your options or to get started today!