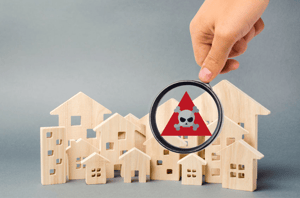 Having recently purchased a house with my fiancé, I have witnessed firsthand how complex and involved the real estate process can get, as well as how many potential cyber security risks arise during a real estate transaction. Whether your real estate company sells residential or commercial properties, security of your contacts and data is critical.
There are numerous avenues of communication to navigate, including email correspondence, phone calls, and electronic documentation. That doesn't even begin to include the various financial transactions that must take place throughout the purchase process.
The complex process offers up a silver platter of potential for cyber criminals who manage to worm their way into the middle of the transaction. From stealing confidential information to committing wire fraud, hackers are presented with a valuable array of opportunity in every real estate transaction. In fact, the average value of a data breach is $3.86 million—per company.
What are the top IT security threats for real estate?
Some of the top IT security threats for real estate include:
Business Email Compromise (BEC)

Unprotected IT Infrastructures

Ransomware & Malware

Third-party Vendor Security

Lack of Cyber Security Awareness




Real estate industry cyber security threats are only becoming more pervasive, and it's imperative that your real estate company's employees, not to mention all clients and third-party vendors, adhere to best IT security practices.
Business Email Compromise
(BEC)
Business email compromise uses email fraud to trick or to attack companies, including real estate agencies. BEC attacks look like they are coming from a legitimate source, like your CEO, a title or escrow partner or even one of your homebuyers.
It starts with a spoofed email account. From there, a cyber criminal will conduct research on your company and specific employees in an attempt to snag you with a spear phishing email.
Perhaps that "homebuyer" has completed their purchase agreement documentation and is returning it to you, and it even looks like an email from DocuSign or DotLoop. However, the button link redirects elsewhere—and may even likely install malware on your computer.
It's just one way a cyber criminal could gain access to your company's systems, sometimes without you even knowing about it.
Unprotected IT Infrastructures
If you are in the real estate business, you need a solid IT setup with best-in-class security. You're working with numerous stakeholders, with a range of sensitive information and resources. Unprotected IT systems, such as ones that use outdated software or inadequate password management, can create gaps for hackers to gain access.
Additionally, without advanced endpoint protection and firewall security, your employee devices are left vulnerable to numerous types of malware, phishing emails, and phony websites. Ensure that your overall infrastructure is secure.
Additional note: be sure to utilize password managers and multifactor authentication to further bolster the protection around your systems and data.
Ransomware
Ransomware is quickly becoming one of the top threats to watch for in any industry, but it's especially pervasive throughout the real estate field. Title companies, escrow businesses, and agencies are all increasingly at risk of falling victim to ransomware.
What is ransomware? It is a type of malware that threatens to encrypt a victim's data or steal it and make it available on the web—unless a ransom has been paid. It can lock down a single machine or entire networks, all in a matter of moments. And attacks occur every 14 seconds.
With such a significant amount of data being stored and processed, real estate companies are high on a hacker's list of priorities—a single home transaction is a gold mine for a cyber criminal.
You can read more about ransomware in one of our other top blog posts.
Third-Party Vendor Security
Moving your data to the cloud offers convenience and flexibility, but when you outsource data to another vendor, such as a cloud provider, there is the risk that your data can be stolen if that provider is a victim of a cyber security attack.
In real estate, you are working with a variety of vendors, so it's important that you vet your vendors and partners to ensure that their cyber security standards are up to the task of keeping your sensitive information about projects and transactions safe from a breach.
Lack of Cyber Security Awareness
Not knowing what threats are out there, as well as how to respond to them, can spell disaster for any type of business. However, with the real estate industry offering up such ripe opportunities for cyber criminals, it becomes even more important for everyone involved to know the risks.
Ensure that your organization's employees undergo regular cyber security awareness training, including video modules, quizzes, and phishing simulations.
Educate your buyers and sellers about wire fraud, and be sure to implement adequate wire policies including a dual-verification method. Never send a wire request based solely on email correspondence or solely a phone call. You should always be able to verify the information with those involved in the transaction.
Real estate companies are major cyber security targets. The extremely sensitive nature of the homebuying process, including the seemingly constant back and forth of emails, documents, wire transfers, and more, all offer hackers significant potential for gaining access to your company, and even other stakeholders' companies.
In fact, in 2019, real estate wire fraud caused victims to lose over $221 million. Protect your real estate clients, and your reputation, by having a layered, comprehensive cyber security strategy.
It could mean the difference between staying safe and being breached. Ensure that your IT security is robust and layered, with every component of your system working optimally with the others.
If this sounds overwhelming, don't sweat it! CoreTech's cyber security experts are here to help your business stay safe and secure. In business over 20 years, as well as top-tier certifications in the industry, our team can recommend the best solutions for your real estate business.
Contact us today to get started with an IT security assessment for your company.