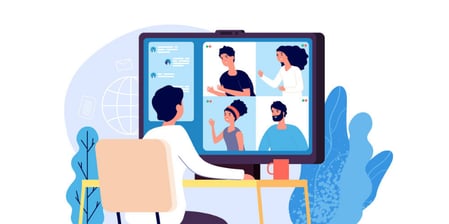 As the pandemic continues to impact communities around the globe, software applications, such as Microsoft Teams, are the glue holding everyone together, especially when it comes to workplace communication.
One of their most popular apps has experienced an uptick in users in the past couple of years. In 2019, Microsoft Teams reported 20 million users and a revenue of $0.8 billion, only to claim 115 million users and approximately $7 billion in 2020. Over time, work environment communication continues to be digitized as Microsoft Teams evolves and expands their program to fit the needs of their everyday users.
Recently, Microsoft Teams has announced several revamps and additions to increase productivity and management for those working remotely and in-person. Check out our list of favorite features to come in 2022:
Walkie talkie feature:
Much like the walkie talkie you might've played with when you were kids, this feature is now available on smartphones or tablets, connecting through cellular data or Wi-Fi. Originally it was announced two years ago and was launched mainly on android devices September 2020. Now, it's free to use on Zebra mobile devices, Apple iPhone and iPad.
Microsoft Teams collaboration with Zebra Technologies also adds a small addition to their phones. On the left, there is a designated push-to-talk button to engage the walkie talkie feature, creating a secure and quick line of communication.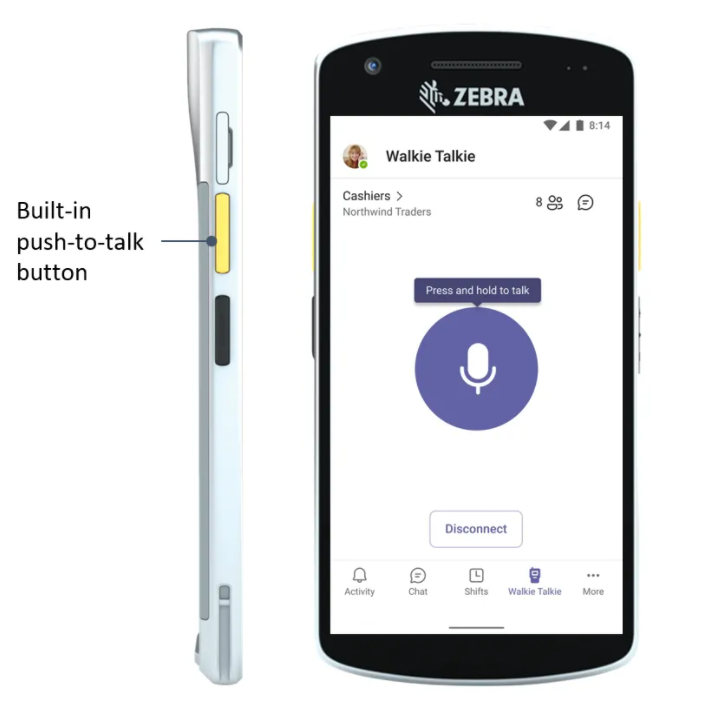 Screenshot taken from The Verge
This idea was primarily developed for frontline workers, or employees who are customer-facing and running day-to-day operations, but this feature can be used for all who need to get ahold of another staff member efficiently.
You can add the walkie talkie to your app list by going to the Microsoft Teams admin center, under Teams app > Setup policies, and have Allow user pinning set to On. Then, under the Pinned Apps section, click +Add Apps. On the Add pinned apps panel that will appear on the right, use the Search textbook to look for the Walkie Talkie. Once you have found it, select the Add button to the right of the name, and it will be added to your list. The app should appear on the Pinned Apps list, and available for use once you click the Save button.
Automated deletion of meeting recordings
This is a feature that has been long awaited, as an overwhelming number of users have requested this feature to be added to the software. In Microsoft Teams Recent Features, you are now able to customize your settings to automatically delete recordings stored in SharePoint or OneDrive after a pre-set period.
Microsoft Teams created this after seeing each hour of recording can consume about 400MB of cloud storage on an average. Of those recordings, 99% of them were no longer watched after 60 days.
"This is on by default for all tenants. This means that by default, all Team Meeting Recordings (TMRs) created after this feature was turned on will be deleted 60 days after their creation date."
-Microsoft
Controlled by the admins on the account, all new recordings will automatically expire after 60 days if no action is taken. Admins will also be given the option to make sure meetings never auto-expire by going to the admin center, or update through PowerShell commands.
"This is on by default for all tenants. This means that by default, all Team Meeting Recordings (TMRs) created after this feature was turned on will be deleted 60 days after their creation date," Microsoft said, "It's our goal to provide as clean an experience as possible for all customers by default."
Keep in mind, the feature will not impact meeting recordings stored in Microsoft Stream but will affect recordings stored in the new Stream on SharePoint and OneDrive. It will only be available for recordings created by Teams services, but not for other file types.
Mesh for Microsoft Teams
While the above features have already rolled out, this one is set to be released later this year. Combining the mixed-reality capabilities of Microsoft Mesh and productivity tools of Microsoft Teams, Mesh has now added an animated option when remote meetings are taking place. Instead of employees working with their cameras off, Mesh allows each member to choose holographic backgrounds and characters, while still engaging in virtual meetings, sending chats, or collaborating on shared documents.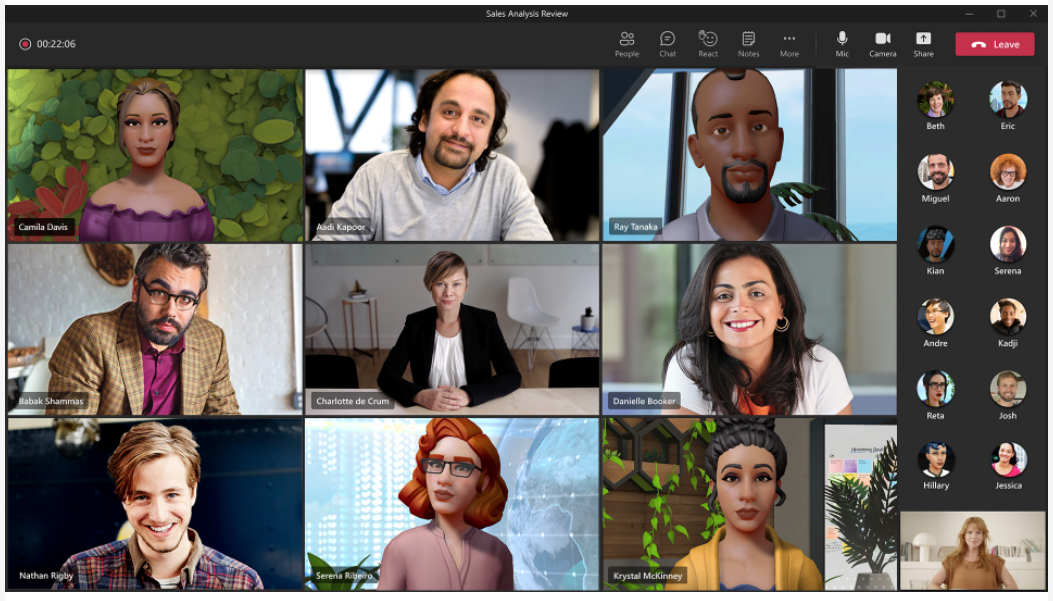 Screenshot taken from Microsoft News
Built off Teams features, Together mode, and Presenter, these remote and hybrid meetings symbolize a sense of unity in the workplace, pushing for the growth of relationship and connectivity between each employee. In doing so, the result is to make the team more effective, and increase engagement during company meetings.
Mesh for Teams will be giving pre-built immersive spaces for meetings to take place in. Organizations will be able to build their custom spaces over time to fit the context the conference is taking place in. For example, on one wall there might be a variety of customer pictures, as well as buyer persona's, to keep in mind who they're serving and what their needs are. Another wall could show a whiteboard with color-coded tasks, and in the middle of the room, a table of product prototypes.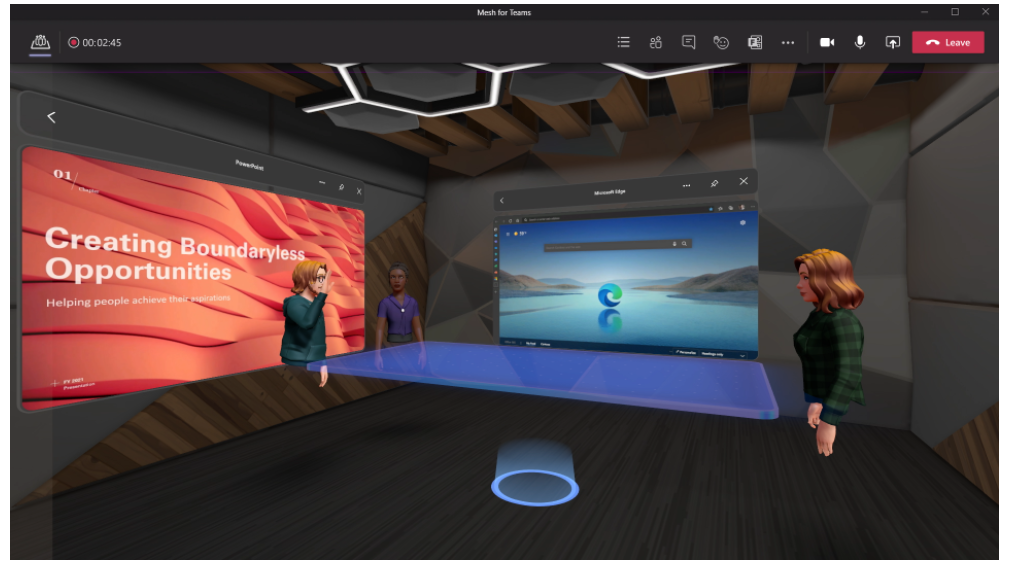 Screenshot taken from Microsoft News
This metaverse, a digital world displaying digital twins of people, places, and things, is meant to make meetings more fun and personal for all employees, whether they prefer their cameras on or off. Employees are still given the option to discuss meetings with a static picture or on video, but Microsoft believes that the avatar option expresses an employee's engagement in the conversation, without having to feel uncomfortable keeping their camera on.
This project was in the works for 12 years and is scheduled to be available in the first half of 2022. With their customizable avatars, backgrounds and meeting environments, the flexibility Mesh provides will allow employees in all types of businesses to meet and create on a more comfortable level.
How to find out more about Teams
Interested in the new features, but wanting to know more about Microsoft Teams program? We're here to help! As a large supporter of using Teams in small to midsize business workplace, we want to keep you as informed as possible with tools available to you. Here are some other blog posts to get you started:
While these aren't all the resources we have, they will help you get started in learning more about your Microsoft Teams program. If you still feel stuck, feel free to contact us with any questions or concerns you may have. We are happy to help with anything you need!