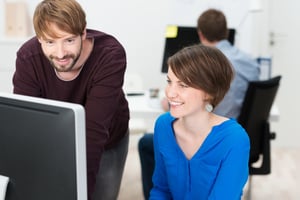 When it comes to maintaining productivity in your business, you need available, effective IT support. But should that support come from an internal IT team, or should you partner with an outsourced IT support company for your SMB?
In this post, I break down the advantages and disadvantages of both internal and outsourced IT services.
How do I choose between in-house and outsourced IT support?
Choosing between internal IT and outsourced IT isn't the easiest decision you'll make for your business, and it's important to consider the pros and cons of each before you move forward with your technology strategy.
A few things you'll want to consider when deciding between internal or outsourced IT include:
Cost

Convenience

Reliability
Advantages of in-house IT
An internal team benefits your business in three major ways:
Keen internal knowledge of

your

business

Quick response times

More control over IT decisions
Keen knowledge of
your
business
If your team is onsite and a part of your company, then they'll know how your users interact with devices, what software they use and how your infrastructure is configured.
Since they are on your payroll, they'll be invested in the company and have established relationships with people across your organization. So, you know they will formulate solutions that work for your entire company.
Quick response times
Internal IT teams can respond to problems in no time flat. There's no travel time if they're in the same office as the employee experiencing problems. They can immediately walk over to a desk or pick up a call, which means reduced downtime and greater time back in your employees' schedules.
More control over IT decisions
If your company's IT is under your management, you'll have greater control over its daily direction and prioritization of tasks. Your team training will be specific to your company's needs, too.
Disadvantages of in-house IT
While in-house IT presents some great benefits to your business, there are also a few downsides, including expensive salaries, overwhelmed to-do lists, and unpredictable employee availability—meaning you won't always necessarily have 24/7 IT support.
IT salaries are rising due to shortages of experienced people
And you won't just pay for their salary. There are no doubt complete benefits packages involved, and you must onboard and train your team for your organization.
Training must be continuous, too, to keep teammates current on technology changes and updates.
IT to-do lists are a mile long—and getting longer all the time
As business becomes more mobile and flexible, support tickets and necessary software updates are going to pile up in no time flat—especially if your internal IT team is just one person or a small group of people.
What this means is that your IT staff will be required to prioritize solving employee issues, rather than focus on big picture-planning, IT security, or keeping up with trends.
In today's business world, it's just not feasible for a small internal IT team to tackle all the IT needs for your organization.
Most internal IT employees work regular business hours
Your internal IT employees won't be available 24/7. If something happens on a weekend, there's no guarantee that someone will be available, and getting in touch with them after hours may be more difficult than expected.
Advantages of outsourced IT support
Outsourced IT also presents numerous benefits. I'll discuss five of them here before discussing the downsides in the next section.
It's more cost effective to outsource IT services
Partnering with a managed service provider for your IT (in other words, outsourcing) means you don't have to pay for the compensation packages of an internal team.
Instead, depending on your service level agreement (SLA), you might pay for hourly service or a flat monthly fee.
Outsourced IT support is available beyond the typical 9-5
With outsourced IT, you'll have the option for 24/7/365 service. So, the next time you experience an outage in the middle of the weekend, you know you'll be covered—and the outsourced IT firm will get you back online quickly.
You partner with an entire team of experts that act as an extension of your own
You don't just partner with 1 or 2 technicians when you decide to outsource your IT. Instead, you gain access to an entire team of people who are knowledgeable in IT. They provide a breadth and depth of experience, and they will cater to your business's specific needs.
In addition, with a truly great outsourced IT service provider, you receive business planning and budgeting services, too. The professionals at these firms truly go above and beyond, recommending the right solutions for your business. They don't just sell you technology for the sake of it.
Outsourced IT experts are dedicated to delivering the best service possible for their clients
Managed service companies want to keep your business, so they are invested in your success. Plus, their teams are dedicated to helping clients. They make it their mission to solve IT problems with the right solutions and innovations.
You can focus on your business, rather than your business technology
Outsourced IT companies will take on your technology burden so you can get back to making sales, improving your outputs, or dedicating more time to innovation. The sky's the limit with the right outsourced IT support partner.
Disadvantages of outsourced IT support
While outsourced IT will save you time, money, and internal resources, there are still some potential drawbacks to be aware of.
You'll have less daily control over your IT with outsourced services
Managed IT companies have their own standards and ways of serving your business's IT. You will work closely with them, but it may be more difficult to change direction.
However, to further your involvement, you can set meetings and go over your technology regularly, usually in Strategic Business Review meetings. These allow MSPs to report on their progress—and give you visibility into their processes and procedures when it comes to your technology.
Communication will be different
Outsourced IT companies operate remotely with occasional onsite work, so communication and how you stay in touch will be through different methods. Email, messaging, calls and occasionally meetings will keep you on the same page, as opposed to a call down the hallway.
As long as you trust your outsourced team to do what you hired them to, communication should not be a problem.
Do I have to choose between internal or outsourced IT support?
Of course not! You can supplement your existing internal IT with outsourced IT. It's called a co-managed approach to IT, and several businesses adopt this approach.
Have questions about co-managed IT services? Contact us at this link.
Outsource your IT services with CoreTech
Keeping up with the IT demands of your company is a significant responsibility, and the list gets longer every day.
You shouldn't have to focus your daily efforts on the ins and outs of your technology.
Let an outsourced IT support provider help you meet your business goals. They'll oversee your technology so you don't have to focus a lot of time on it.
The experts at CoreTech have over 20 years of experience with providing outsourced IT support to SMBs across Omaha and Lincoln, and we would love an opportunity to help your business.
Contact us today for a free consultation or schedule a meeting by clicking the button below.