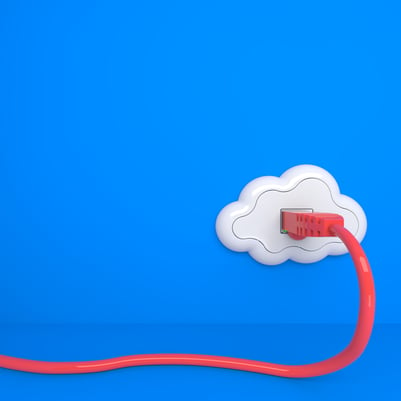 Thanks to the incredible advancements in cloud computing, technology experts are recommending a move to cloud-based data collection and storage solutions for all kinds of reasons. Small businesses, though, have individualized needs and goals for their technology and question the one-size-fits-all approach of moving to the cloud. Cloud computing has empowered businesses of all sizes to achieve the following:
Efficiency
Scalability
Cost savings
Reduced time-to-market for new applications
Reduced cost of development
Increased reliability of their services
Less downtime


Leveraging Hybrid Cloud Solutions: Harmful or Helpful?
Small and medium-sized businesses (SMBs) increasingly use cloud computing to access powerful applications and stay competitive in their industries. Leveraging cloud solutions allows SMBs to access new and innovative technologies such as AI tools and quantum computing.
These features can give SMBs the edge they need to stay ahead of the competition. A hybrid cloud solution may be the perfect solution for a small business needing help switching to cloud computing or storage.
What is a Hybrid Cloud?
A hybrid cloud combines public and private cloud environments, allowing businesses to mix and match resources to fit what is best for their business. For example, a company may use an on-site data center (private) and Google Cloud (public). To manage workplace operations, such as remote and in-house workers, small businesses must find customized solutions tailored to their business needs.
Small businesses will also need to evaluate what processes are better supported by the cloud and upgrade their system during migration. Both can be smooth and easy processes if completed by an experienced IT provider.
Some tools enable SMBs to securely store and share large amounts of data across physical and cloud environments. This allows SMBs to access their data quickly and securely while providing an efficient collaboration and scalability platform. Because these apps are available, it is easier for SMBs to access their data anytime, anywhere, on any device.
What are the Benefits of a Hybrid Cloud?
Hybrid cloud solutions offer businesses a powerful combination of scalability, performance, and cost-effectiveness. By taking advantage of the strengths of both public and private hybrid cloud infrastructure, companies can benefit from the agility and flexibility of the public cloud while still utilizing the security and control of their own private networks.
These hybrid solutions are particularly attractive for businesses in industries with stringent data privacy requirements, such as financial services, healthcare, and government. With a hybrid cloud solution, companies can ensure their data remains secure and compliant while still leveraging the power of the cloud to drive innovation.
When companies combine physical, private data storage with public cloud solutions, they gain several benefits, including:
Realize cost savings which are often much more cost-effective than other options
Access to the latest technologies, such as AI and machine learning, without extending or replacing their current infrastructure
Leveraging their resources efficiently to ensure that their data is always available and up-to-date
The ability to share data quickly and securely between partners or with customers tremendously reduces operational costs and increases customer satisfaction
How Do I Know if the Hybrid Cloud is Right for My Business?
Evaluate the cloud-based services you're interested in as you would any purchase for your business.
Does the solution fit the needs of your growing company?
Would private or public cloud solutions be a better option than combining them?
Does it include a service agreement that meets your needs?
Does the technology help you meet your business goals?
Contact a Managed Service Provider
Talking with a managed service provider can help you identify the strengths and weaknesses -- in relation to your business -- for each service you are considering. It is important to consider the security of your chosen cloud-hosted solution, as well as the reliability and scalability of the service.
Reach out to CoreTech today to evaluate cloud-hosted solutions, so you can make the most of your operations. Working with a managed service provider ensures you receive expert advice on the technology that is right for your business.